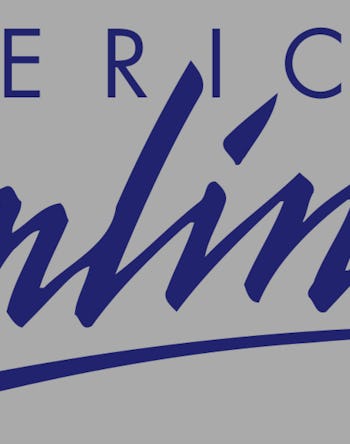 Innovation
Gardening, Sex, and Trolling: Who's in AOL Chatrooms in 2017
Meet the people who still frequent the '90s internet.
Flickr / HPZ
Mike Riccardi would spend hours in chatrooms hosted by America Online as a teenager. When he heard the sound of a door creeping open ring from the speakers of his desktop computer, he'd perk up because the sound meant a friend was online, and they were free to chat.
That was the 1990s, and Riccardi was into grunge and metal music, video games, and computers. He'd chat about Nirvana, search for guitar tabs, trade shareware, and find opponents for Doom. By 1997, AOL had 19,000 chatrooms. That year, AOL Instant Messenger launched, born out of the Buddy List feature in AOL. Along with this product came the away message, buddy icons, a personal profile, and eventually voice chat, file transfer, and chat bots.
"It was a different time, because in the '90s, no one gave their real personal information on the internet," says the now 35-year-old web developer. "It was really cool, because even if your parents were in the next room, they couldn't hear what you were talking about because you're typing on your keyboard."
At AOL's peak, more than 100 million AOL screen names existed, and users spent over a million hours chatting a year. Of course, celebrities were involved in this new way to connect with the fans. A press release from 1997 promotes a calendar of events that included an online chat with each of the Spice Girls and a downloadable audio greeting from Oprah Winfrey (in honor of Mother's Day). Others weren't so impressed: "Any performance skills you have go out the window," complained comedian Jay Leno in a 1995 New York Times interview. "One loses the ability to be sarcastic or place emphasis."
Now, some twenty years later, the once-vibrant chatroom communities of AOL have nearly disappeared, but they are still there … barely. About 1,500 people can be counted in all of AOL's public chatrooms today, a number that in the '90s wouldn't have even matched a large "auditorium"-style room where celebrities would hold court. Today, many chatrooms seem to have only one person loitering inside.
It's incredibly difficult to even use the chatrooms, because you need AOL Desktop, a free program that when downloaded, feels like a glimpse back into the days of dial-up.
Now primarily a digital media company, AOL — it owns The Huffington Post, TechCrunch, and Engadget — seems to have forgotten about its chatrooms and the people who use them. It doesn't even want to talk about them: the company refused to make anyone available for this story.
Who Uses AOL Chatrooms in 2017?
So who's conversing in AOL chatrooms now? A mix of the elderly and trolls. And, just like in the 1990s, people looking for sex.
A user named Bird still uses AOL chatrooms. She's 72, and in her free time, she likes making miniature scenes and working in her garden. But when she has about an hour, she'll log on to chat. She's used chatrooms for the past 16 years, ever since her kids introduced her to AOL. While her children don't use AOL anymore, she's kept it up.
Her favorite room is "Garden Chat," where she trades tips on how to grow vegetables and flowers. To this day, Garden Chat appears to be one of the most active chatrooms on AOL. But now the room is completely different.
"We got invaded," Bird tells Inverse.
There's a post apocalyptic sense about AOL chatrooms. The abandoned entertainment rooms are about outdated TV shows, celebrities, and movies (think Desperate Housewives, Brangelina, and Twilight). Frequent, longtime users — it seems to mostly be the elderly — who log on to chat about gardening have increasingly been met with trolls who start arguments about President Donald Trump. And yes, there are people — unsure about Tinder — looking for love.
The most popular chatrooms on AOL today have names like Widows and Widowers, Garden Chat, and Sixties Plus. Also popular, a chatroom for Republicans, along with chatrooms called Beliefs Christian and Born Again. User-created sexual fantasy rooms are also popular.
On Garden Chat, sometimes people still trade tips for gardening and cooking, messaging back and forth in different fonts, font weights, and colors.
But much of the time, the conversations are much more colorful — in that they're splashed with expletives.
"Lately my favorite room has gotten a bunch of pervert-nasty people," Bird says. She calls them "disruptors." When I ask her what the disruptors do, she says, "If you were reading Garden Chat right now, you would see. Some just argue and call names. That's not fun."
Bird misses the days when people would talk about growing annuals and perennials. At the pinnacle of AOL, the company had 35 million paying subscribers. And chatrooms have been around before AOL was AOL. When it was still called Quantum Computer Services, the company debuted chatrooms.
"That was a huge focus of the service," Joe Schober, who was a beta tester at Quantum Computing Services in the late 1980s and officially worked for AOL from 1992 to 2014, tells Inverse.
"That was the AOL philosophy from the start. It was about community."
Regular chat rooms could hold up to 23 people. "Auditorium" chatrooms could hold hundreds or thousands of users and had a moderator. Users could also create private and public chatrooms and host scheduled events.
Initially, mostly tech-minded people joined AOL chatrooms, since at the time, it wasn't as common to own a home computer. Forums on the Apple II, Macintosh, PC, software development, and gaming were popular. But as the PC exploded in popularity during the Clinton years, so did AOL. A 1993 Associated Press story even describes how then-President Bill Clinton was considering holding a town hall on AOL. His screen name was "Clinton Pz."
Clinton's team of "young, high-tech specialists" were "pondering new ways of communicating directly with Americans," reported the AP. With AOL, users could get information from the White House and "even send the president electronic mail, known as e-mail, if they want."
Angelique Weger, a 36-year-old front-end developer, recalls using chatrooms in middle school. She would spend time roleplaying as a medieval sorceress on the Red Dragon Inn sci-fi/fantasy chatroom and meeting teens from across the country in Teen Chat.
"I really liked the sense of just being represented and just being understood by my words," Weger tells Inverse. "There wasn't any sort of physical representation of yourself. I just liked engaging people with my words and relationships."
Weger made many friends from these chatrooms, some of whom she has met and still keeps in touch with today. AOL was her first introduction to the internet, and on chatrooms, she spoke to a computer programmer for the first time.
She even eventually became a host on Teen Chat. In exchange for being in the chatroom for certain hours and moderating, AOL would grant her free hours. There was little trolling.
"It wasn't a troublesome space," Weger says. "I have to imagine moderating spaces online in 2017. There's a lot more abusive behavior. It was more often you had to remind people what the values and norms of the room were."
Schober recalls that at AOL's peak, AOL would sometimes gain over 70,000 users a day, causing chatroom communities to rapidly evolve. Chatrooms were like "being in a really noisy cocktail party," Schober says.
"Compared to the chatting and threading experiences you get nowadays, trolls basically did not exist," Schober says. "It was a much more family-friendly kind of environment. You did not get into chatroom wars or thread wars. It seemed like a more dignified discussion. It was a very comfortable and friendly environment."
Slowly, people moved on to other forms of social media. And in 2010, AIM axed its chatrooms, although they're still available on the AOL Desktop client.
"Since usage of AIM Chat has declined significantly in recent months, our focus has moved to other products," AOL announced.
Two years later, AOL laid off nearly all its AIM developers, cutting jobs of more than 40 employees in West coast offices.
Chatrooms in the Post Apocalyptic Age
Chatrooms are a completely different landscape now. When I enter the room called Beliefs Christian — presumably about Jesus — trolls angrily message each other with profanity and hate messages about Trump, liberals, and more. (Occasionally someone tries to introduce the topic of spirituality. For example, "go out into the fields and bring God's people back into the church.")
When I enter the Sixties Plus Love (the only active romance room whenever I was online), elderly men immediately start messaging me. One man is Tony, age 60. I introduced myself as a reporter, and after an awkward initial exchange, he says he uses chatrooms to look for a girlfriend. He doesn't use other dating sites. When I ask him why, he says he'd love to, but he doesn't know what else to use or how to get there.
Patricia Lackey, a 58-year-old security officer, also sometimes uses chatrooms for dating. She started using AOL chatrooms in 2002, when she "heard about the computer world from relatives." She usually goes on the Special Interest Fifties Plus rooms, Widows and Widowers, and Garden Chat, spending two to three hours chatting.
"I have met a lot of people from different chatrooms. Men, too," Lackey tells Inverse. "I have found many boyfriends from the rooms. Some I have met in person."
Others use chatrooms to anonymously express their sexuality. Tina, a 45-year-old home goods business owner, initially used the rooms to chat with other moms, but eventually moved into the adult chatrooms, spending anywhere from 15 minutes to 3 hours chatting about fantasies and trading porn videos. The chatrooms are "an easy quick escape," she says.
Some of the chatrooms she frequents are Forties Plus, Nudist, and LGBTQ. None of her family and friends in real life know she uses AOL chatrooms, much less that she's also attracted to women.
"I always had [an] inner feeling, I guess," Tina says.
In 2014, Facebook tried to bring back chatrooms by launching a Rooms app. It wasn't very successful, and the service has since ended. But messenger apps like Slack are on the rise, where people can create teams around similar goals or interests.
So while AOL chatrooms seem destined to disappear, their impact is unquestionable: they've connected people from all over the world and existed for almost every topic imaginable, from music to politics to Alcoholics Anonymous to stay-at-home moms swapping parenting tips.
"I definitely knew a lot of people who lived in little towns," Schober says. "They were kind of cooped up in their home in a rural area, but having that exposure where you could talk to people across the world or across the U.S., it just opened so many doors and stretched the horizons."
Schober doesn't think public chatrooms will completely go away. It exists in other forms, like live commenting or tweeting on Facebook and Twitter. He suspects that if chatrooms weren't popularized, the adoption of the internet would've been slower, as people are attracted to community.
"People like to be in communities and communicate with each other," Schober says. "Nowadays, community is so freaking integral to what people do online. It's all about sharing stuff on Instagram or Twitter or Facebook."
Today, AOL Desktop is sluggish and extremely buggy. When I downloaded it onto my Mac, I couldn't log in, and it kept crashing. After several phone calls with AOL support (one representative told me to go on help.aol.com instead), I found out my computer was too advanced for AOL Desktop for Macs — newer Mac operating systems don't support it.
When I downloaded it onto a Windows computer, fortunately, it didn't keep crashing — but I couldn't log in. After phone calls and emails with AOL support, I finally learned that I had to get a paid account to use AOL Desktop.
What has kept AOL's chatrooms different is their anonymous group-focused nature. As social media has become increasingly identity-oriented (example: the Facebook "real name" controversy) and individualistic, anonymous chatrooms have remained singular from the modern internet, even as they teeter on the brink of extinction.
"I like the idea that people come from all around the different states of the map, and I like meeting people on the net," Lackey says. "We all get used to talking to each other and then feeling like a family…if it's a good night, a lot of laughter will go on."