Everyone is Shocked That 'Suicide Squad' Won an Oscar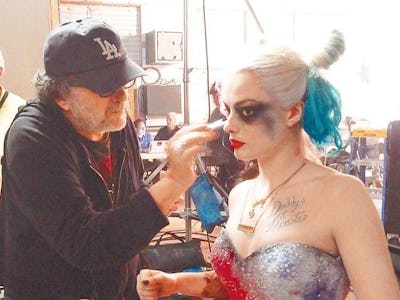 DC Entertainment, China Times
Many were surprised when Suicide Squad landed an Academy Award nomination for Best Hair and Makeup Design, but during Sunday's ceremony, the film caused an uproar when it actually won.
"ACADEMY AWARD WINNER SUICIDE SQUAD" was the irony-soaked, ALL CAPS reaction. It was like saying, "TWO-TIME GRAMMY AWARD WINNER BARACK OBAMA."
But Alessandro Bertolazzi and his team were deserving of their award. Although Suicide Squad was critically panned and its Oscar win was mocked, Bertolazzi being honored for his work in design is anything but unusual.
His makeup and hair design credits include Biutiful, Babel, Fury, and Skyfall. Further, though Suicide Squad's plot was criticized for being untethered and muddled, the film did bring to life several unusual comic book characters, including Harley Quinn and Killer Croc.
Bertolazzi's work in visually depicting these characters was certainly notable, especially if one considers how his version of Harley Quinn — Margot Robbie in pastel makeup and dip-dyed pigtails — spread like wildfire across the American zeitgeist.
Bertolazzi's design was the most popular Halloween costume of 2016 by far, and depictions of the character in porn swept the AVN awards.
Specifically, Bertolazzi's Harley Quinn was a cultural phenomenon, not DC's Harley, or Paul Dini's original Harley from Batman: The Animated Series. That fact alone, aside from Suicide Squad being a derided film, deserves some credit.