Mexican Billionaire Carlos Slim is Launching a New Electric Car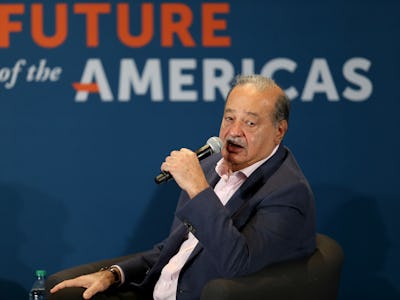 Getty Images / Joe Raedle
Hundreds of miles south of Elon Musk's headquarters in Fremont, California, another charismatic billionaire is planning to jump into the electric car market. Carlos Slim, the fourth richest man in the world, owns an auto company as well, Giant Motors, which recently announced it will make a made-in-Mexico electric vehicle that could make a huge impact in the North American market.
Since Mexico offers minimal incentives for getting electric vehicles, and charging infrastructure is minimal, electric vehicles haven't really taken off. But the Giant Motors announcement is interesting, as it hints toward a different model of electric car marketing than the luxury-first branding of American companies like Tesla and Lucid Motors.
"We are developing a new Mexican electric vehicle that will not only be assembled [in Mexico], but also designed and modeled to meet the needs of Mexican consumers," Elías Massri, the CEO of Giant Motors for Latin America told Forbes Mexico:
Giant Motors recently signed a partnership with JAC Motors, a Chinese government-owned automaker, to produce vehicles at its plants in Hidalgo, Mexico. While Massri did not say JAC would be directly involved in the car, it's possible that Giant Motors will be taking notes from the Chinese automaker on producing a low-cost, short-range car, instead of a luxury supercar like Tesla.
A working prototype of the car is expected by the end of the year and would be released commercially in 2018. Giant Motors also suggested to Forbes Mexico that the first roll-out of the new electric vehicles will primarily be as taxis – and the company is apparently working to get government funding for promotion.
A BMW report on the state of electric vehicles in Latin America in 2015 found that consumers tended to avoid them because they are expensive and charging stations aren't reliable — the same concerns that Wester. But the approach Slim's company seems to be taking could ease these growing pains, to "meet the needs of Mexican consumers," as Massri said, which are most likely similar to those of Chinese customers in Mexico's dense urban areas. If it follows the model being used in China, Giant Motors will put an emphasis on cost-effective, short-range vehicles.
This is perfect for a launch in Mexico City, which is plagued by pollution, and short-range electric vehicles will have fewer issues with irregular charging locations. With production of less expensive electric cars in North America, companies like Audi might release short-range electric models in the United States in order to remain competitive. These cars aren't built to take you across the country, but we could see a surge in city-use electric vehicles if our neighbor to the South blazes the trail.