Miller Is Taken Into Custody in Exclusive 'Expanse' Season 2 Clip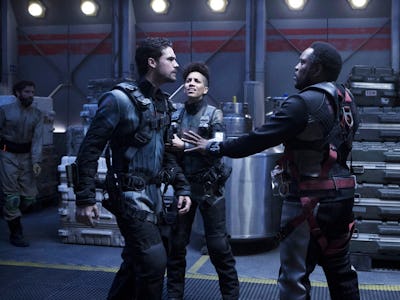 Syfy
In the Season 2 premiere of Syfy's The Expanse, Jim Holden and the crew of the Rocinante welcomed wayward former detective Joe Miller into the crew with open but skeptical arms. The fallout from the Eros incident and Julie Mao's death left him a bit on edge. But Miller went and ruined any goodwill by gunning down shady Protogen scientist Dresden in cold blood. Holden was rendered speechless in the closing moments of the premiere, but in this exclusive clip from Episode 2, it's obvious that Holden didn't take too kindly to Miller's abrupt act of revenge.
The clip shows Tycho Station Commander Fred Johnson taking the Miller and the commando squad sent to investigate the abandoned space station into custody. Miller went there to find answers about the bioweapon attack on lower class Belters on Eros. Instead of taking Dresden into custody and pulling out all of the data he gathered from Eros, Miller put a bullet in his head.
Judging by Holden's reaction to the handcuffed Miller, it's safe to say that he won't be welcomed back on the Rocinante if Holden, Naomi, Amos, and Alex ever ship out from Tycho Station. Holden loses his composure and goes after Miller, but Naomi's cooler head prevails.
Once again, the Roci crew are forced to weather an uncertain future. With Dresden now dead, they're going to have to figure out how to gather information about the Eros incident from the other scientist captured on the mysterious abandoned space station. As for Miller, it looks like he's going to have to find another home once again, and it may be in a Tycho Station jail cell.
Episode 2 of the second season of The Expanse airs on Syfy on February 8.