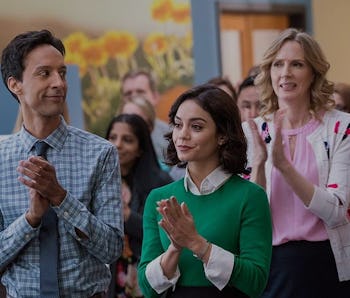 Entertainment
Here's the Easter Egg You Missed in the 'Powerless' Premiere
Why yes, that WAS DC's most infamous American president.
NBC
Spoilers for the premiere of Powerless below.
Powerless, a delightful DC sitcom about a jaded R&D team at Wayne Securities, is unique in that centers us normies instead of supers. While there's definitely superheroes and supervillains in the show, the big battles happen in the background of the cast's everyday frustrations with work and being middle-managed.
Charm City, where this particular branch of Wayne Securities is located, might not be home to DC A-listers like Batman and the Justice League, but there's still quite a few recognizable supers in the pilot. Crimson Fox and Jack-o-Lantern are the most obvious ones, but you might have missed a much more iconic villain lurking in the background.
Thanks to an unsuspecting commuter's newspaper, we now know that in this particular DC universe, Lex Luthor is president-elect. Apparently, Luthor pulled some very Trumpian moves and won on his promise to "Make Metropolis Super Again."
When Inverse caught up with Patrick Schumaker this week we asked whether that was a one-off joke, or whether fans could expect to see the allegory unfold. Shumaker replied, "Given the election, we will probably have a lot of fodder for the concept of powerlessness moving forward. In this show, Lex Luthor is the President, but we didn't know the election results when we started production. We knew the nominees. We made very small allusions to the fact that Trump might be elected president."
But now that life is imitating art which is imitating life?
"I think we have about four more episodes that we're still in the middle of writing, and we're going to incorporate a little bit more of the … At least, even if it's in the shape of a news stinger or something like that, information about Lex Luthor as the President of the United States: What is happening with all of his corporate interests and have they been put into a blind trust?"
He's not worried about straying too far into political territory, though, "We are on NBC. It is intended to be a broadly appealing show, and so I think if we were a premium cable show then maybe we would use it as a soapbox, but I think at the end of the day we just want people to have fun watching it and not be reminded of the horror that is daily life."
So while fans will definitely see more of President Luthor as the season airs, he thankfully won't hog too much screen time unlike his real-life counterpart.