What's Better Than Ride-Sharing? Joy Ride-Sharing.
Turo is making dope cars available to thousands of eager cruisers.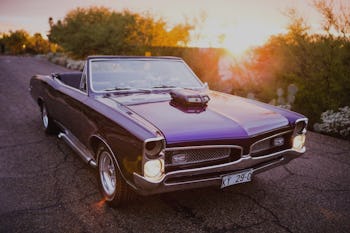 Turo
If you had a swanky, expensive car, you might not be eager to hand off the keys to a total stranger looking to open it up or slow roll their high school reunion. You might be protective. You might be reluctant. And you might be convinced to change your mind. That is the premise at the core of Turo, a car-sharing startup with a presence in more than 4,500 cities that specializes in dope rides. Turo is building a community of car enthusiasts psyched to let other people take the wheel — if only because the money helps justify having a sweet whip.
When Turo first started out in 2009, it didn't expect to become a platform for car fans to borrow and share expensive, unique rides. "What we really underestimated — or didn't estimate at all — when we launched is that car enthusiasts would be so passionate about Turo," Steve Webb, the company's director of communications and community, tells Inverse.
Company lore claims that the original idea for Turo (formerly RelayRides) came about when its founder, Shelby Clark, was walking around Harvard during an especially snowy day wishing that he could drive one of the many idle cars he saw parked along the road. As Webb notes, the average American car isn't being used for about 92 percent of the time, so the initial vision for Turo was to simply take advantage of basic everyday cars that weren't being used every day.
At the start, Turo assumed that most people would want to share cars that cost somewhere in the neighborhood of $25,000. "Turned out, people started calling us and telling us 'hey, I have this $50,000 Mercedes or $75,000 Porche, can I please share it?'" recalls Pushkar Modi, Turo's chief auto enthusiast. "It's frankly amazing the kind of cars that owners are willing to share at this point."
Both Webb and Modi attribute a large part of this willingness by car owners to share more luxury vehicles to something they call "car-ing up."
"If somebody doesn't necessarily have the money to buy a Honda Accord but can only afford a Honda Civic, by letting them share their car on Turo and making that extra income, they're able to basically car-up and go for that Honda Accord," Modi says. He uses a Tesla Model S — Teslas are some of the more sought-after cars in Turo's diverse, owner-generated fleet — as an example. Turo's data shows that renting out a Model S for one week a month practically covers the cost of the car in the first place.
"Buy a Tesla, share it on Turo for just seven days, and for the rest of the days you're just basically driving around in a car for free," Modi says.
This, of course, simplifies things quite a bit. Modi's scenario assumes that owners are going to always have a driver who wants to rent their car every month, and overlooks how, in this scenario, the owner wouldn't have access to their own car for about a quarter of the time. Still, Turo's found that the service does help put nicer cars within reach for both renters and owners.
Although Teslas are among the more popular cars Turo's owners have to offer (Modi boasts that Turo had a Model X available to rent in San Francisco before some Tesla showrooms even had them), it's far from the only cool ride in Turo's arsenal. Staying true to his title as Turo's "chief auto enthusiast," Modi excitedly talks about classic cars like Porsche Speedsters from 1957 or a 1970 Alfa Romeo. He found one Los Angeles-based owner, Sean G., offering seven extremely nice cars for rent, including a 2015 Porsche Cayman GT4. "That was a limited edition Cayman," Modi says. "Porsche made, like, 8,000 of those and we have one of them on Turo."
Power users like Sean G. are rare but make up a "significant percentage" of Turo's revenue, according to Webb. Modi says some of the most enterprising Turo users have made a side business out of it, using Turo income to buy more cars that they put right back up on the service. "They've come to us basically saying 'help me get a bigger loan because the banks don't understand why I need 15 cars.'" he recalls. "It's an amazing problem to have."
Or course, if you lend a nice, limited-edition car to someone, things can always go wrong. "Turo is not an outlier to the risks of driving on the road," Modi says, though the company is pretty prepared for eventualities like accidents, and most users who experience that side of the company still continue to use it. Turo has a $1 million liability insurance policy in the United States and twice that in Canada — much more than the average individual drive is likely to have. "It is actually safer to rent a car with Turo," Modi half-jokes.
Well, unless you're in New York, the one state where Turo doesn't have a presence due to unique laws regarding third-party insurance and a $200,000 fine in 2013. "It's too bad. People in NYC could really benefit," Webb says in a follow-up email after our first conversation, noting that Turo tends to cost 35 percent less than a typical rental car company, "but you would save even more in NYC."
Turo's had some surprising benefits for car owners, but of course there are some perks for drivers, too. It is cheaper than a typical rental car experience, but Webb says the really neat thing about Turo is that it runs counter to the idea that car transportation has become commoditized. Drivers can take advantage of all those cool cars that Turo's owners are putting up for rent. If the weekend getaway or whatnot calls for it, an interesting car at a solid price is more appealing than a bland clunker.
"This is a similar sort of sentiment that we have seen at companies like Airbnb where a lot of the reason why people choose them over a Hilton or a Hyatt is because they don't want a cookie-cutter experience," Webb says.
It's the unique quality of Turo's cars that Webb says will help the company stay relevant even as the increasing ubiquity of ride-sharing companies and the looming promise of autonomation promise to change how car ownership looks in the 21st Century.
In the future, though, Turo is aiming to focus on more than just cars. "The number on request that we get, at least in Canada, is for snowmobiles," Webb says.