Stalking Movie Stars Up the Icy Mountain at Sundance
The hard work comes after you get accepted to the festival.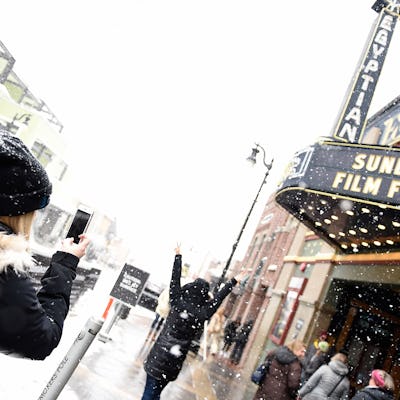 Getty Images / Matt Winkelmeyer
I'm a few minutes late to the morning's first scheduled stop, so I'm a little bit relieved when I meet Dixon, the publicist for the film Person to Person, and learn no one from the movie has shown up yet. The schedule for cast and crew's first day of Sundance Film Festival publicity, on which I am tagging along, is packed so tightly that one delay can have a domino effect; there's only a ten minute gap between each appointment, which is dicey, given how crowded Main Street can get, especially on a snowy day.
The festival is a 10-day celebration of independent cinema, but for the filmmakers whose movies have been selected to participate, it can often feel more like speed dating with people who don't bother to learn your name. Every morning, movie stars and budding filmmakers wake up at the crack of dawn to traverse the icy slope of Main Street, with planned stops at each and every rented storefront and their transactional publicity depots.
Person to Person, directed by a New York indie scene staple named Dustin Guy Defa, is a character study that follows three story threads: Broad City star Abbi Jacobson plays a reporter on her first day of work, being dragged around the city on a murder investigation by an awkward editor played by Michael Cera. Tavi Gevinson and Olivia Luccardi play teenagers who skip out of school and hang out with boys for the day. Bene Coopersmith, a Brooklyn local who owns a record shop in real life, plays a jazz record-lover chasing after a Charlie Parker vinyl while trying to get his depressed friend, played by George Sample III, to get up off the couch. Coopersmith is the holdover from Defa's 2014 short of the same name (see below), on which the feature is loosely based.
Cera was unable to make the festival, as he was in the middle of shooting another project. But everyone else was in Park City, at least for the first part of Friday. The day was also a character study, following a group of loosely connected New Yorkers, but in Utah instead of the Lower East Side.
The immediate crisis is mostly averted when Dustin and his crew roll up at 9:10 a.m. to the restaurant rented by the trade news website Deadline; they'll just have to rush this one. The place is stocked with savory treats like breakfast pizza, and a brigade of Deadline employees — mostly marketing people — mill around, chatting with publicists and instructing photographers during a photo shoot. Though I try to stay in the background, one of them spots me jotting down notes and interrogates me about what I'm doing there. They reprimand Dixon and his boss Adam, telling them that Deadline doesn't allow other media in its lounge.
"It makes everyone uncomfortable," a person working for a press outlet says in regards to the presence of a reporter.
I'm allowed to stay, because kicking me out would take way too much effort, and this is a pretty quick stop. Bene, a soul music expert, dances to music playing as he sips a coffee. George, who later tells me that he's planning to move from his native St. Louis to Los Angeles this spring, hangs out nearby. This is his second trip to Sundance, and it's time to make the jump to the big time. Everyone gets their picture taken.
Dustin is brought to a separate room in the back to do an ultra-quick video interview, and then the cast does the same. Each interview is about three minutes, or just about long enough for everyone there to say their name and who they play in the film. Dustin loves talking about his work and finds great value in post-screening Q&As but is no fan of this format, because not only is it rushed, but the interviewer didn't see the movie. There's nothing to talk about.
This is how every interview that morning will go for him. Most of the journalists from these outlets are out seeing movies, leaving it to marketing or video people to conduct the perfunctory chats.
Next stop is the Getty Images lounge, which is tucked inside some small storefront, now packed to the gills with people, photo gear, candy, and jackets made by one of their partners. The little nook is sponsored by DirecTV — every lounge has two or three different brand partners that buy the right to have their products placed in celebrity photos and press blasts, which request sponsors' names be used in any coverage.
One of the film's three executive producers, Michael Sherman, meets the group at the Getty spot. His company, Bow and Arrow, produces indie films that cost in the $1-10 million range, and he admits it's a hard market for those kinds of movies. And yet, it's in much better shape now than it was this time last year, thanks in part to the free-spending of streaming giants Netflix and Amazon. They hope to land a distribution deal with a theatrical run for Person to Person, but only time will tell. They need buzz, which is why they have to talk to everyone.
Dustin singes his tongue on some coffee, a potentially major injury during a press tour, but finds relief by pouring some sugar on the burn. I've never seen that trick before, but it seems to work. He's a bit nervous this morning, with the premiere just hours away. He's from Salt Lake City and, after moving to Oregon for high school, he moved back to Utah. At that point, he began attending Sundance as a budding movie buff and had the short film version of Person to Person play here a few years ago. He's a soft-spoken guy, but each word carries meaning. He admits to there being something special about having the full-length feature play at Sundance after his first feature film premiered at SXSW.
Later, at a dinner feting the film, his mom tells me that he always wanted to be a filmmaker and had a camera in his hands as soon as he was big enough to lift one. I've never seen a mom more proud; she holds my hand as she tells me stories about Dustin as a young filmmaker, as if to transfer the memories and excitement directly to me.
We climb up the steep Main Street — well, some of us do. There's an SUV waiting to bring some of the cast and crew to the next destination; Gevinson and Jacobson, who is wearing tall platform boots, hitch a ride. They're the biggest celebrities in the cast, which becomes very apparent as we continue the day's checklist of meet and greets.
It's a bit of a hike to a bar called Rock & Reilly's, which has been converted into the temporary home of New York Magazine's Vulture site. The site will be hosting the Person to Person after-party, which is sponsored by J. Crew. Abbi and Tavi will miss the party because they are leaving after the film's premiere to fly to D.C. to participate in Saturday's Women's March. As such, they're asked to take photos in J. Crew jackets now, to make sure the sponsor gets the stars wearing its gear. An email sent out to festival press will later reveal that "Abbi was sporting J.Crew's Collection Olivia Topcoat in hthr flannel, while Tavi wore J.Crew's Cashmere scarf in red buffalo plaid."
Sundance is like a fantasy land — one person called it a "snow globe" — and it feels totally removed from the outside world. All the buildings seem relatively new, everything is free (if you're famous), and people talk about movies all day long. But Friday is Inauguration Day, and President Donald Trump's speech is playing on TV when we arrive at Rock & Reilly's. No one is happy about it, and eventually, the TV gets turned off. The illusion is restored.
Abbi and Tavi are clearly the biggest draws, and before they have their photos taken, they're brought over to the side to conduct several interviews, including one with a GQ writer who holds his recorder very close to Abbi's face. I can't hear what they're saying, but all the interviews she gives that day, when published, lead with her thoughts on Trump; Hillary Clinton had appeared last year on Broad City, and Abbi and Ilana Glazer have just released a short spoof of the inauguration online.
Tavi is even more preoccupied with the new president. The founder of Rookie magazine, she's been an outspoken feminist since middle school. At one point, she tells someone that she felt Clinton was the victim of ingrained sexism from men, and even some older women who resented Clinton's accomplishments. She happily talks about the movie when asked, but politics seem to be foremost on her mind.
No one in the cast says a word about the focus on Abbi and Tavi, because it's not a surprise, and it's good publicity for the movie. Plus, none of the other cast members there seems particularly hung up about their own celebrity; it's all about making good work, which they have done with this movie. Olivia is the most experienced actress of the bunch, having appeared in movies like It Follows and Money Monster, but she's relatively carefree, walking around in a tutu over tights and shooting the shit with her publicist, Anthony. She just got back from a monthlong trip to Italy to visit family. Life is pretty good.
Dustin spent a few minutes with Paste magazine, which has set up a makeshift photo set in the hallway entrance of Rock & Reilly's. No inch of space goes unused during the first weekend at Sundance; it's like real estate in Tokyo, or my studio apartment in Manhattan.
The cast hangs around for about 40 minutes, enjoying the tater tots provided by Rock & Reilly's (Olivia mixes sriracha and ketchup to create a tangy dipping sauce) and inquiring one-by-one about the display of winter hats made by House of Shroom, an apparel company that does not value subtlety in its graphic designs. Olivia and George are given hats with cartoon drugs on them, in exchange for photos. This is the beginning of a large swag collection, which Vulture will supplement with a gift bag that includes its own branded winter hat and an expensive pair of headphones.
No one offers me a swag bag, which is fine.
The next stop is Variety's lounge, which is more like a product showroom than a newsroom or bureau. It's pretty crammed full of people, most of them marketers for Variety or one of its many brand partners. The Australian cookie brand Tim Tam has set up shop near the front with a hot chocolate bar and a corkboard display of photos of celebrities eating their treats. There's some kind of challenge called a Tim Tam Slam that they want people to try, but no one takes the bait. Then again, I have no idea what a Tim Tam Slam looks like.
Near the back of the big room is a huge wall filled with candy and popcorn, courtesy of sponsor Orville Redenbacher. While Abbi and Tavi take photos, the rest of the cast munch on the buffet of sweets. The second Olivia begins to fill a bag with some popcorn, a pack of publicists, who watch the area like hawks, swoop in to take her photo, which they then upload to all relevant social media networks. Someone asks her to give a shout out to the Variety readers on Snapchat, too, and she cheerfully complies. They give her a throw pillow with Orville Redenbacher's face on it after I jokingly inquire about its availability on her behalf. So at least she gets something out of the deal. Her publicist, Anthony, has to carry it from location to location.
It's not just theater candy and Australian treats at the Variety lounge; Google Home is also a presenting sponsor, and some of the cast get pulled into a demonstration of the new do-it-all gadget with the disembodied voice. George, meanwhile, fills a few bags of candy to eat during the screening, which is now just an hour away. The room is pretty loud, but we all get shushed when Judd Apatow and the cast of the romantic comedy The Big Sick, including Silicon Valley star Kumail Nanjiani, walk into the lounge. That movie will later sell to Amazon for $12 million.
Everyone in the movie gets a Google Home in their Variety swag bag. No one offers me one, which is fine. The gummy bears were good.
Before the premiere is the red carpet, an event that can often be sort of funny at Sundance. The movie is being shown at the Library theater, which is literally a movie screen inside a library, and the red carpet is housed inside a tent out front. The local Park City cable channel is there, as are a good number of photographers. Abbi, Tavi, and Olivia get interviewed and then have their pictures taken. There are some bigger cast photos staged at the end of the carpet time.
The screening is sold out, and Dustin seems low-key amped. This is a huge moment. The cast and crew fill in reserved seats in the back. Abbi and Tavi are asked to spend the screening conducting interviews on the first floor of the library, which is still open and serving the bibliophiles of Park City. They each do two interviews, with sites that include Elle and MTV, and then come together to speak with Bustle. They're troopers, having hustled up and down Main Street, fitting in as many hushed conversations as possible to promote the movie (and, inevitably, be asked about Trump) before they have to leave town. They'll have each spent less than 24 hours in Park City by the time they have to go to the airport.
Tavi says a few times that she's happy to be here to promote a piece of art she is proud of, but also knows that nothing happening in Park City is anywhere near as important as what's going down in Washington, D.C. At 20 years old, she says she's got to reevaluate priorities, which sounds crazy until you remember she's been famous since the age of 12 and more accomplished than most people in the building since then, too.
The premiere goes very well; the audience seems engaged with the various stories and asks engaging questions during the post-screening Q&A. They want to know about Bene's clothing in the movie, which serves as sort of a running joke. Dustin comes alive during this Q&A, and everyone has an anecdote to share.
Once the Q&A is over, the Person to Person team is free for awhile… other than Abbi and Tavi, who have interviews with Vanity Fair and the LA Times. Then the two actresses head off to D.C. to protest, as Dustin and the rest of the crew celebrate.
The team dinner is attended by a lot of people from the New York indie film scene, all of whom seem to adore Dustin, who has played small roles in many of their movies. He's not flashy, and Person to Person is filled with naturalistic performances by actors playing decidedly unflashy characters. It all comes together to form something bigger than the sum of its parts, like the exhausting day at Sundance.