A Rider Just Hit the World's First Double Backflip On a Snowmobile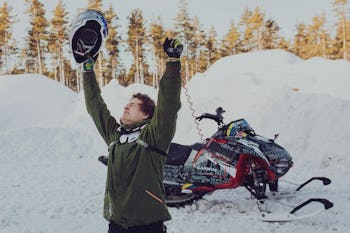 Marcus Olssen
For people in the Arctic circle, the snowmobile is an integral part of daily life, but for Daniel Bodin, it's meant for doing sick-ass backflips. Bodin landed the first double backflip on a snowmobile recently, and the video footage released today proves it, making him the first rider to land the trick since it was first attempted in the 2009 X Games.
Bodin won the Best Trick gold at the X games in 2013 and has been trying to nail the double backflip ever since. After he lands the massive jump, you can hear him screaming in excitement on the video posted by Redbull on Tuesday. But while snowmobiles are popular for daredevils, they are also the main source of transportation for isolated communities in arctic regions.
"I did it! I can't believe I did it! The rush! It just can't be described – nobody in this world can understand the feeling. I've nurtured the dream of nailing this trick for more than two years," Bodin said after nailing the trick, according to the video caption. With the 2017 X Games starting this weekend, Bodin is putting some serious pressure on the competitors to be more innovative on the slopes.
When used for actual transportation, snowmobiles could use an update. American Snowmobiler suggests incorporating gyroscopes and the ability to preset things like engine performance and traction so riders can adapt to conditions as they experience them. These sorts of abilities already exist in four-wheelers, so incorporating them in snowmobiles isn't a huge stretch. And with that kind of adaptability, imagine the range of tricks you could see at the X Games.