Arnold Schwarzenegger Has a Massive All-Electric Off-Road Mercedes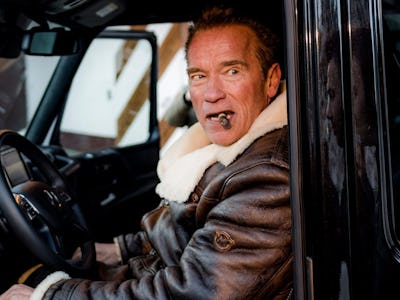 Kreisel Electric GmbH / www.martinproell.com
While Tesla and Rimec are racing towards getting 0-60 in under two seconds, Arnold Schwarzenegger is repping a different kind of electric muscle car – in this case, a massive off-road Mercedes G-Wagon.
Arnold is clearly working hard to move past his Hummer-driving past and campaign for climate change in the most Schwarzenegger way possible. To do this, he worked with Kreisel Electric, an Austrian battery startup, to turn the Mercedes G 350 d into a completely battery-powered monster. Electric-car manufacturers have basically ignored the all-terrain vehicle, but if you have the man who started the Hummer craze showing off his electric road hog and smoking a cigar, maybe they should pay attention. And there is something pretty beautiful about watching him fuss over the car while he unveiled it in Kitzebuehel, Austria on Sunday.
In the early '90s, it was Schwarzenegger's purchase of a Hummer that caused the entire country to go nuts. Since then, he has worked hard to distance himself from his gas-guzzling past. In the '00s he had one of his Hummers converted to run on alternative fuels, and eventually stopped driving them in favor of the Mercedes G-Wagons. He is clearly extremely proud of his new baby, saying in the announcement video from yesterday:
"As you can see behind me that is a regular G-Wagon, that you would know as the Mercedes G-Wagon. But this is not a regular car. Because this one – instead of having a gasoline engine, has an electric engine. Zero pollution."
Kreisel removed the engine and fuel tank from the G-Wagon and inserted 80 Kwh electric batteries. The electric monster of a car goes 0-60 in 5.6 seconds — three seconds faster than the original, and has a range of 187 miles. Making it electric has also seriously increased the traction available in the diesel G-Wagon, going from 180kW in the original to 360 kW in the electric version.
Major electric car manufacturers haven't tackled the off-road market yet, although some people have tried taking their Tesla Model X into the wilderness. With his cigar and crew of macho Austrian onlookers, Schwarzenegger is moving the image of electric cars away from the white-collar suburbanite to bros on a hunting trip. And it's a good look for electric. Getting more speed and more traction in an off-road vehicle seems to be a pretty strong selling point.
Unfortunately, you can't purchase a tricked-out electric Mercedes G-Wagon just yet, although Arnold will be test-driving the prototype around California. Let's hope Mercedes is paying attention.