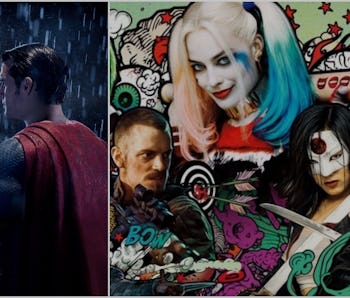 Entertainment
The Razzies Went Easy on 'Suicide Squad', Came Hard for 'BvS'
Warner Bros, DC Entertainment
Every year, Hollywood comes together to choose a select number of films that deserved special recognition. I am talking of course, about the Razzies, which honors the worst films of the year. In 2016, that film was Warner Bros.' Batman v Superman: Dawn of Justice.
Citing the film as a "WTF comic-book battle royale," Razzie organizers have nominated the DC superhero film for "Worst Picture" alongside Dirty Grandpa, Gods of Egypt, Hillary's America: The Secret History of the Democratic Party, Independence Day: Resurgence, and Zoolander No. 2.
While DC's superhero team-up film isn't topping the Razzie nominations (that's Zoolander No. 2) Batman v Superman is also nominated for "Worst Remake, Ripoff, or Sequel" and the film's two stars, Ben Affleck and Henry Cavill, are both up for "Worst Actor" and "Worst Screen Combo", while the screenplay and director Zack Snyder are also nominated for worst in their respective Razzie categories.
This is particularly biting for Ben Affleck who previously won a "Razzie Redeemer" award for making the transition from Razzie winner Gigli, to Academy Award winning Argo. Affleck finds himself back in the Razzie pool this year, unfortunately.
Interestingly, despite the hate showered upon DC's much maligned Batman v Superman, DC's other critically dismissed comic book film, Suicide Squad, came away relatively clean with only two Razzie nominations. The two nominations include Jared Leto's performance as the Joker in "Worst Supporting Actor", and also for "Worst Screenplay".
The winners, or rather losers, will be announced on February 25 after votes from Razzie members are tallied, while "Worst Screen Combo" award is decided by thousands of Rotten Tomatoes users.