Watch People Freak Out as the Girl from 'The Ring' Crawls Out of a TV 
There was some screaming involved.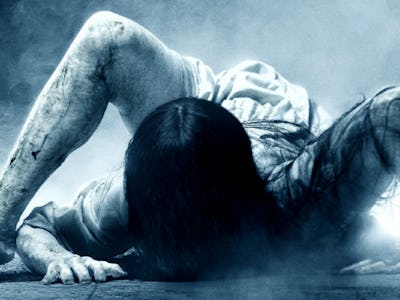 Screen Rant
As if Samara from The Ring didn't haunt you enough, now she's crawling out of screens, unprompted, at America's electronics stores. A publicity video released Monday from Paramount Pictures for its 2017 The Ring Two follow-up, Rings, shows Samara pulling a prank of epic proportions on unassuming customers.
"She looks like she's going to jump out," one woman says, much to the all-knowing host's amusement as Samara literally crawls out of a TV behind them. Understandably, there's a lot of screaming, scrambling, and general tripping over things throughout the video as people try to get away from Samara's quietly menacing stance and unnerving gaze.
It's funny because you see it happening, but imagine being one of those poor people. Not so funny anymore.
Rings will be the third film in the American Ring franchise — following 2002's The Ring and 2005's The Ring Two — and will be set 13 years after the events of the first two films. The plot involves some dumbass exploring the urban myth of a mysterious video that's said to kill the viewer seven days after watching it.
Luckily, watching this promotional video is more likely to leave you laughing than dead.
Rings premieres February 3.