'Star Trek' Fan Film Is No Longer a Film After Lawsuit Settlement
Million-dollar 'Axanar' production will be split into short segments.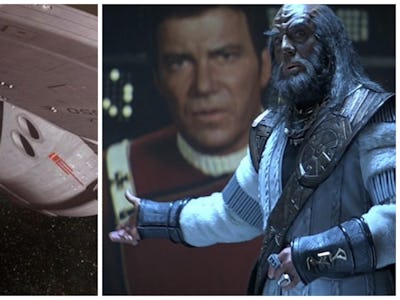 Star Trek: Axanar, a $1.2 million production that would have been the most professional and expensive of fan films, will instead become two 15-minute shorts after its producers settled a lawsuit with CBS and Paramount.
On January 20, Axanar's Executive Producer Alec Peters announced that a "formal resolution" to the lawsuit had been reached. Though an entire feature film version of the fan-funded Star Trek: Axanar will not be distributed online for free as Peters initially wished, the settlement does allow the existing "prequel," Prelude to Axanar, to stay online ad-free. Meanwhile, the feature film, which was stopped by the suit before it went into production, will become two 15-minute segments and have to make adjustments to respect the companies' trademarks.
Initially, both sides of the lawsuit (CBS/Paramount and Axanar Productions) had hoped for a summary judgement in each of their favors. After the case was sent to a jury, things were looking better for Axanar, as Judge Klausner claimed that a summary judgment alone couldn't determine if Axanar was violating "subjective similarity" in relationship to the copyright infringement on all of Star Trek.
But now that the entire case has wrapped up in a settlement, each side is, in a sense, conceding some ground to the other. On June 23, 2016, when the Axanar suit was still ongoing (and likely because of it) CBS and Paramount jointly issued new official guidelines for how Star Trek fan films were required to be made. Obviously, because these guidelines were established after the existence of Axanar, the production violated the guidelines in several ways, primarily because it raised too much money and used many elements that CBS and Paramount said were trademarked.
After many twists and turns, though, the saga of a strange, new kind of fan film is over. The corporate juggernaut of Viacom's CBS and Paramount have prevented a full-fledged feature film to be made that would compete with their Star Trek brand, but they did this perhaps at the cost of fan goodwill and some protections of their trademarks. But reminders of this legal space skirmish will remain in the form of Axanar continuing its mission, this time, in smaller, less threatening formats.
Speaking to the New York Times on Friday, Axanar spokesman Mike Bawden said turning the film into smaller stories was going to be difficult, asking, "How do you take a 90-minute story and turn it into a 30-minute story?"
The release date for the new shorter Axanar films has yet to be announced.