Kristen Stewart, the Actress, Co-Wrote a Research Paper on A.I.
She's come so far since 'Twilight.'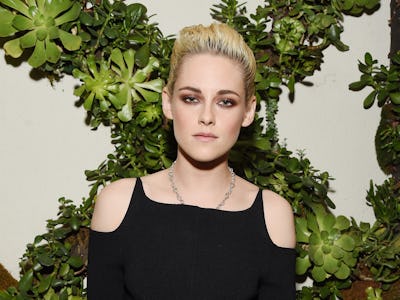 Getty Images / Michael Kovac
Haters that are stuck in the past will point to her starring role in the much-maligned Twilight franchise, but Kristen Stewart is an incredibly accomplished actress. The 26-year-old is branching out, too. She's making her directorial debut at Sundance and she just co-wrote a research paper on artificial intelligence. Yeah, you read that right.
The paper, which was released on Wednesday through the Cornells' online research repository ArXiv, hasn't been peer-reviewed yet, but it's a pretty interesting look at the way A.I. can create art — and evoke specific style and sense of emotion. Stewart wrote it to accompany her directorial and screenwriting debut, Come Swim, a short whose plot is described as "a diptych of one man's day; half impressionist and half realist portraits."
Stewart and her team used a machine learning technique called Neural Style Transfer that redraws images in the style of another source image. The A.I. was used to "redraw key scenes in Come Swim in the style of the impressionistic painting that inspired the film."
The original painting, which Stewart created herself, can be seen in the middle image below. The rightmost image is the stylized version the Neural Style Transfer created.
"The painting itself evokes the thoughts an individual has in the first moments of waking (fading in-between dreams and reality), and this theme is explored in the introductory and final scenes where this technique is applied," the paper explains. "This directly drove the look of the shot, leading us to map the emotions we wanted to evoke to parameters in the algorithm as well as making use of more conventional techniques in the 2D compositing stage."
Stewart co-wrote the paper with David Shapiro, a producer at Starlight Studios (the production company behind Come Swim) and Bhautik J Joshi, a research engineer at Adobe. The entire thing is an interesting mixture of technology and art, and it's a fairly quick read.
You can read "Bringing Impressionism to Life with Neural Style Transfer in Come Swim," in full right here. Come Swim premiered on Thursday at Sundance.