Why the Air Force is Launching a Missile Defense Satellite Tonight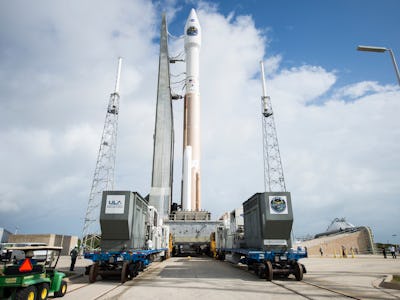 Getty Images / Handout
Update 1/20/2017: the launch was delayed, and is currently rescheduled for Friday at 7:42PM ET.
The U.S. Air Force is about to get a shiny new missile defense satellite today, the third in a trio of infrared detection systems that will monitor the skies and upper atmosphere for missile launches.
United Launch Alliance will launch the Space-Based Infrared System GEO Flight 3 satellite on an Atlas V rocket. There are two SBIRS satellites already in orbit, with more on the way. The satellites are made by Lockheed Martin, which together with Boeing's Defense, Space, and Security division also makes up ULA. SBIRS is basically a big early-warning system for whenever someone launches a missile big enough to cause concern, like North Korea's inconsistent ICBMs and Russia's slightly terrifying Satan 2 missile. U.S. missile defense is almost exclusively geared toward spotting launches from Space, which means the military is taking a "the more satellites, the better" approach to the program. ULA's website says SBIRS is "considered one of the nation's highest priority space programs."
It also has a ridiculously sweet mission poster for tonight's launch, which looks like something straight out of a Cold War-era pamphlet on how awesome the U.S. nuclear arsenal is.
Lockheed Martin's website for the program says the SBIRS provides "missile defense, missile warning, battlespace awareness, and technical intelligence" to U.S. forces on the ground.
Unfortunately, the satellites themselves are pretty much defenseless, especially to specialized anti-satellite missiles like the one the Russian Federation tested on December 16. In the event of a global war, conventional or nuclear, the SBIRS systems would probably be some of the highest priority targets for foreign aggressors with ICBM capabilities. But if the SBIRS systems do their jobs correctly, U.S. forces should be aware of any launch soon after it happens.
You can watch a nice live stream of ULA's 69th Atlas V rocket launch tonight around 7:46 p.m Eastern on YouTube.