Report: Peter Dinklage Will Appear in 'Avengers: Infinity War'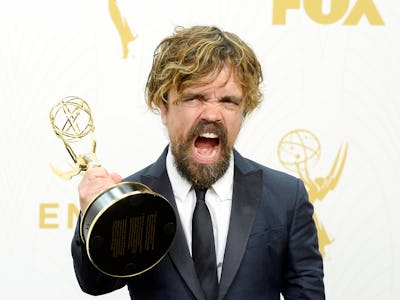 Getty Images / Kevork Djansezian
Tyrion Lannister might be headed to the Marvel Universe. Variety reports that Peter Dinklage is in talks to join the cast of the next two Avengers movies, Infinity War, playing an as-yet-unknown character.
Dinklage is, of course, best known for playing the witty Tyrion on HBO's Game of Thrones. Production on the show's seventh season, which is expected to premiere sometime this summer, recently wrapped. To take advantage of colder weather now that winter has come, Thrones shoots in the fall, meaning Dinklage would be available in the summer, when Avengers is expected to shoot.
Variety's sources say Dinklage would appear in both Infinity War and the sequel, which doesn't have an official name yet. Both movies are going to be shot back-to-back. Marvel had no comment when Variety reached out for confirmation.
There's no word on which character Dinklage would play, or if he'd even be a hero or a villain. Marvel hasn't revealed many plot details for Infinity War yet, other than that it will focus on Josh Brolin's diabolical Thanos, and that pretty much every hero in the MCU is going to make an appearance.
If Dinklage joins the cast, it won't be the first time he's played a Marvel character. He played the villainous inventor Bolivar Trask in 2014's X-Men: Days of Future Past.