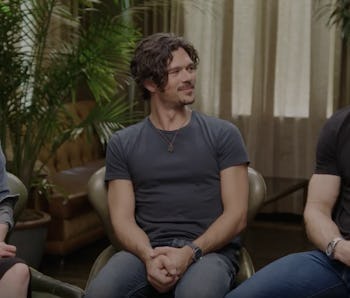 Entertainment
Luke Arnold and Tom Hopper Talk 'Black Sails' Season 4
Luke Arnold and Tom Hopper discuss Silver, Billy, and 'Black Sails' Season 4 
Starz
John Silver and Billy Bones have both come a long way between the first season of Black Sails and its upcoming final season. Their relationship initially began with mutual dislike, as Silver (Luke Arnold) scorned the pirate lifestyle and essentially thought the wide-eyed, earnest Billy (Tom Hopper) was a chump. For his part, Billy didn't appreciate Silver's brash manipulative manner or blasé attitude. It seemed unlikely to the point of laughable that either man would turn into a formidable pirate or see eye-to-eye with the other. But going into Season 4, against all odds, each has evolved into a force of nature capable of inciting respect and fear in equal measure. Even stranger, they've reached a place of mutual understanding, and even friendship.
Luke Arnold and Tom Hopper sat down with Inverse to discuss Silver and Billy's journeys, how Silver would die if he didn't have to survive the events of Treasure Island, why Billy never has sex, and more.
Here's the snazzy edited version:
And here's the full length version:
In the coming weeks, expect a similar video with Hannah New, Jessica Parker Kennedy, and Clara Paget, and a third with Luke Arnold, Tom Hopper, Hannah New, Jessica Parker Kennedy, and Clara Paget. If you missed our Season 4 interview with the creators, catch it here.
The fourth and final season of Black Sails premieres on January 29 on Starz.