Diego Luna Is the Unapologetically Latino Star Wars Hero We Need
"Y el Globo de Oro es para… you got that right?"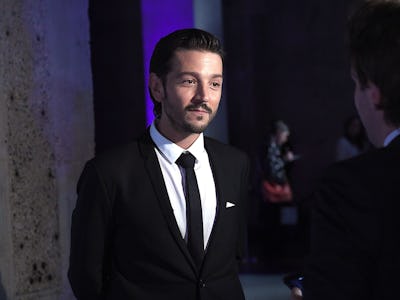 Getty Images / Stuart C. Wilson
Diego Luna has been winning over people's hearts for more than just his role in the latest [Star Wars]((https://www.inverse.com/topic/star-wars) movie. On Sunday night at the 2017 Golden Globe Awards, Luna presented the award for best screenplay with his Rogue One co-star Felicity Jones. While on stage, the actor greeted the audience in Spanish, saying "buenas noches a todos." And after the nominees were listed off by the announcer, Luna continued with "y el Globo de Oro es para… you got that right?" For those who didn't, it translates to "and the Golden Globe is for."
While Luna was simply casually speaking his native language, it was a major moment of the night and in American award shows' history. Instead of making a big deal out of shifting gears into a different language, Luna unapologetically stayed true to himself. It didn't come off as a major performance, but simply what felt natural for the 37-year-old actor originally from Mexico City. But at the same time, just the act was political; using a language that wasn't English at a major Hollywood event while the industry still grapples with suitable diversity that reflects the real world points out just how homogenous the winners of these awards tend to be.
The actor speaking Spanish sent people into a frenzy on Twitter, with many people feeling extremely proud that Luna could bring the language to such a platform. Many were also quite pleased when Luna hushed the crowd with a "silencio."
It was also chance to stick it to President-elect Donald Trump who has said plenty of awful things about Latinos and Mexicans.
And just last week Luna tweeted out a screenshot of a Tumblr post about Luna's accent in Rogue One that went viral, catapulting the sentiment to his millions of Twitter followers. Essentially, representation matters — it was a significant moment for the Tumblr user's Mexican father, with a thick Mexican accent, to see and hear someone like him as a hero in such a massive film franchise.
According to a 2015 study from the Instituto Cervantes, the United States is the world's largest Spanish-speaking country after Mexico, with 41 million native speakers in the states. California alone, the state where the Golden Globes takes place, has 38 percent of its population speaking the language.
This isn't the first time that a celebrity has been unapologetically Latino at the award ceremony. In 2015 when Gina Rodriguez won the award for Best Actress in a Television Comedy, she took her moment on stage to bring up the importance of diversity in entertainment. She said, "This award is so much more than myself … It represents a culture that wants to see themselves as heroes."