'Virginia' and 'Inside' Lead the 2017 IGF Finalists
And 'Stardew Valley' gets kind of snubbed.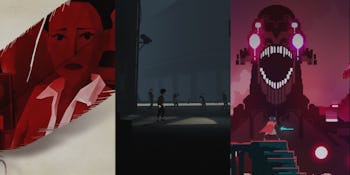 The finalists have been revealed for this year's International Games Festival, celebrating the finest works in indie games. This time around, a voiceless existential journey, the nightmarish follow-up to Limbo and a solemn interactive puzzle with an A.I. machine have secured their place as the top of the pack.
A group of about 340 evaluators picked this year's 30 nominees from a pile of more than 650 video games. The selections are becoming increasingly competitive with the continued surge in quality. Previous winners have included Braid; Papers, Please; and Her Story. Even Minecraft, arguably one of the most successful games of our generation, was a winner at the International Games Festival.
In the lead this year is Virginia, the Twin Peaks-style thriller where, instead of dialogue, all the emotional intensity comes from its gorgeous soundtrack. Virginia received a total of four nominations this year, including Best Audio, Excellence in Narrative, and the Nuovo Award for Innovation.
Following close behind are some of 2016's other cerebral indie hits, each of which have gotten three nominations apiece. There's Inside, Playdead's much-hyped follow-up to 2010's Limbo, which traded a lone boy's journey through a dark forest for a lone boy's journey through a secretive project. Event[0] is a space exploration game where the player must interact with a ship's onboard A.I. to solve puzzles and get home. Finally, there's Hyper Light Drifter, an action-adventure RPG inspired by the creator's struggle with a lifelong heart condition.
Sadly, Stardew Valley is largely missing from the nominees. Despite being one of the biggest indie games of 2016, it only nabbed one nomination at this year's IGF Awards. Of course, it's for the Seumas McNally Grand Prize, which is by far the biggest accolade in the competition, but it's a little disappointing that Stardew Valley isn't getting more recognition for the gorgeous and uncomplicated world that it's created.
The winners of the IGF Awards will be announced at the festival's main event on March 1 in San Francisco immediately followed by the Game Developers Choice Awards, which recognizes that best games of the year across all sections of video game development, not just indie gaming. Both awards ceremonies will be live-streamed on GDC's Twitch channel.
Here's the full list of nominees:
BEST AUDIO
The Flame in the Flood (The Molasses Flood)
GoNNER (Art in Heart)
Virginia (Variable State)
Hyper Light Drifter (Heart Machine)
Everything (David OReilly)
Inside (Playdead)
EXCELLENCE IN DESIGN
Imbroglio (Michael Brough)
Ultimate Chicken Horse (Clever Endeavour Games)
Duskers (Misfits Attic)
Overcooked (Ghost Town Games)
Event[0] (Ocelot Society)
Quadrilateral Cowboy (Blendo Games)
EXCELLENCE IN NARRATIVE
Ladykiller in a Bind (Love Conquers All Games)
1979 Revolution: Black Friday (iNK Stories)
Virginia (Variable State)
Orwell (Osmotic Studios)
Event[0] (Ocelot Society)
One Night Stand (Kinmoku)
EXCELLENCE IN VISUAL ART
The Flame in the Flood (The Molasses Flood)
Inside (Playdead)
Virginia (Variable State)
Old Man's Journey (Broken Rules)
Hyper Light Drifter (Heart Machine)
She Remembered Caterpillars (jumpsuit entertainment)
NUOVO AWARD
Islands: Non-Places (Carlburton LLC)
Close (Tobias Zarges and Moritz Eberl)
Diaries of a Spaceport Janitor (Sundae Month)
Oiκοςpiel, Book I (David Kanaga)
Everything (David OReilly)
Virginia (Variable State)
Mu Cartographer (Titouan Millet)
Lieve Oma (Florian Veltman)
SEUMAS MCNALLY GRAND PRIZE
Inside (Playdead)
Stardew Valley (ConcernedApe)
Quadrilateral Cowboy (Blendo Games)
Event[0] (Ocelot Society)
Hyper Light Drifter (Heart Machine)
Overcooked (Ghost Town Games)
BEST STUDENT GAME
Diaries of a Spaceport Janitor (Sundae Month)
Lily, Colors of Santa Luz (Lily, Colors of Santa Luz Team)
Un Pas Fragile (PAF team)
FAR: Lone Sails (Mr. Whale's Game Service / Mixtvision)
Frog Climbers (TeamCrew)
Bamboo Heart (Sokpop Collective)