Samsung's Electric Car Battery Will End Range Anxiety Forever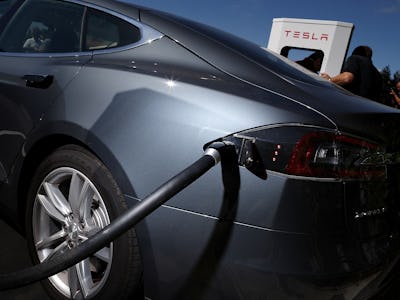 Getty Images / Justin Sullivan
Samsung has produced a battery for electric cars that aims to deliver unparalleled levels of driving range. The cell is capable of powering an electric car for 600 km (373 miles), ideal for undertaking long-distance journeys. What's more, the battery is capable of fast charging in under 20 minutes, a manageable amount of time that enables rapid recharging when the juice runs out.
It's a major breakthrough for electric cars: range anxiety is a common concern when it comes to making the jump from gasoline. Gas stations are commonplace, and anyone caught in a spot of bother can call for assistance. In practice, the fear around electric cars is overblown - an MIT study found that 87 percent of days people spend in a gas-powered car in the U.S. are perfect for switching, with plenty of charge points along the way. But in some situations, it's hard to get away from the flexibility gas offers. For those situations, a higher capacity cell allows for more ambitious road trips.
Samsung is confident their now battery will aid the growing sector. "By providing the industry-leading technologies and products that meet the demand of our customers and market, we will contribute to a rapid market adoption of EVs in North America and worldwide," Sehwoong Jeong, executive vice president at Samsung SDI, said in a statement.
Electric car battery modules will help power the next generation of autonomous vehicles. Tesla, a household name in electric car adoption, is already planning an update for its vehicles to enable full autonomy by the end of 2017, a timescale that Toyota has claimed is unrealistic. Advances like Samsung's will help convince consumers that electric cars - and by extension autonomous cars - are a reliable mode of transport with few tradeoffs.