TBS is Making a Full Series Out of Conan's 'Clueless Gamer' Bit
The segment has proven to be immensely popular on YouTube.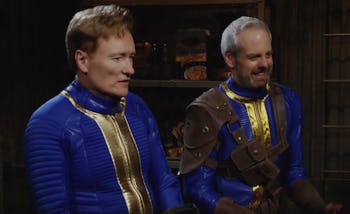 TBS
Some of today's most popular video games can seem a little, well, inscrutable to an outside observer. Conan O'Brien has played up this disconnect for laughs on his TBS show for the reoccurring Clueless Gamer segment, where the host (and sometimes a celebrity guest) crack jokes as they make their confused way through a new release. Now, Deadline reports that the network is going to turn Clueless Gamer into its own, full-fledged spin-off series.
Jeff Ross, a principal at O'Brien's Conaco production company, told Deadline in an interview that the company was working on a Clueless Gamer series, though he didn't let any additional details slip. (The company is also working on a deal with Snapchat to create original content.)
Making Clueless Gamer — a popular segment whose 35 installments have racked up millions of views on YouTube — into its own series seems like a smart move. Deadline notes that the popular Spike show Lip Sync Battle started out as a segment on The Tonight Show Starring Jimmy Fallon. Clueless Gamer, which combines the appeal of a Let's Play video and a sardonic, non-gaming comedian, has crossover appeal. Some of the games that have been featured on the series so far include Battlefield I, Overwatch, and Fallout 4.
There's no premiere date at this time. One wonders, though, if Conan ends up being heavily involved in the Clueless Gamer series, if he'll ever become, uh, less clueless about video games. Chances are willful ignorance is too important to the bit for that.