'The Young Pope' Hasn't Even Aired and Its Memes Are Lit
The internet has truly blessed us.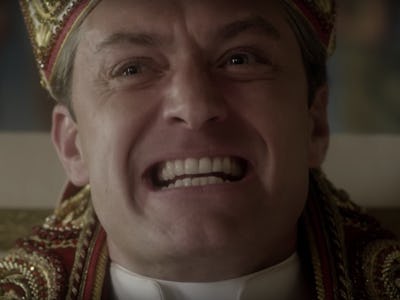 YouTube
The latest hot, viral-sensation HBO show is all about the Pope. Except instead of an old Pope, The Young Pope is about Jude Law, a sexy young pope. The show won't come out in America until January 15, but the internet is already going bonkers in anticipation.
Law portrays the fictional Pope Pius XIII, an archbishop from New York City. He's known as Lenny by the College of Cardinals and is ready to shake things up in the Catholic Church. Diane Keaton plays Sister Mary, the woman who raised Lenny and who becomes his secretary once he takes the title of youngest pope in history.
Now, Young Pope doesn't look extraordinarily… good, or anything. Just a bunch of drama with dudes wearing cassocks and zucchettos. The only really exciting thing is that Law is really working it in those Pope clothes. But that hasn't kept the internet from eagerly awaiting the premiere, tweeting out their best hot holy man jokes. They're as lit as those donation candles.
The internet couldn't bless us with better memes:
25. This series is going to be pure fire
24. That Law, always camera ready.
23. Your Pope could never
22. Neil Young would be so proud
21. Soon, coming very soon
20. Nah, pretty sure the KKK did
19. This scene will probably be edited out
18. Sounds like drama
17. Praying to Saint Dick
16. Law enters the lexicon
15. So many Catholic grandmothers are disappointed
14. Popes and Recreation
13. Real as God
12. Probably wouldn't be the first Pope
11. A new multiverse
10. This is genius
9. The anticipation is killing us
8. But Jude Law is our young Pope
7. Hopefully, also free
6. Millennials at church these days
5. West Church.
4. Is there enough Young Pope to go around?
3. The fashion's going to be amazing
2. We know Kim Kardashian won't be watching
1. Well, this is awkward