The Best Resources for Building a Competitive Pokemon Team
You've got some training to do.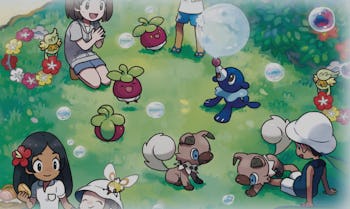 Niche Gamer
The Pokémon Video Game Championship (VGC) 2017 is getting under way with a series of regional tournaments around the world. Players from all over can register for local matches for the chance to climb through the ranks in the hopes of competing in the Pokémon World Championships later in the year. While playing Pokémon at the competitive level requires a lot of strategy and careful planning, the metagame is a very welcoming place for beginners, and seasoned experts have created a number of resources to help all players get a fair start. Here are some of the best resources for building a great competitive team:
Aaron Zheng's Team-Building Guide
Pokémon VGC veteran Aaron Zheng made this extensive team-building guide with complete beginners in mind. He goes into all of the nitty gritty as far as team building is concerned. His friendly style and deep knowledge makes this a perfect starting point.
A lot of active VGC competitors make their home here. It's a great place to get your team rated before you register for an event. Members have already gotten started rating new Alolan Pokémon for competitive play.
We've featured this tool before, but we can't emphasize enough what a valuable resource this is. It lets you build a sample team, and offers you a breakdown of your potential team's strengths and weaknesses. It's very helpful in the early steps of team building.
Wolfe Glick's YouTube Channel
2016 VGC World Champion Wolfe Glicke has a YouTube channel full of useful videos. He's currently running a series on movesets for new Sun and Moon Pokémon. He uses his expertise to consider all situations in battle. Listening to his advice is a good way to learn about how people in the metagame approach strategy while also helping you consider new competitive movesets.
Pokémon Showdown's Team-Building Tool
Once you have an idea of which Pokémon you'll be using, head over to Pokémon Showdown's team-building tool. It's much more complex than others, allowing you to pit potential Pokémon against common opponents to see which movesets will perform the best. You can input customized stats, too, to determine which EVs you should put the most effort into.
Sometimes the best way to learn is by example, and Trainer Tower can help you do just that. This site covers each VGC season in depth, providing analysis on teams and tournaments to give you a clear idea of what's working and what's not. Keep an eye on them for updates on VGC 2017.
Our very own Nicholas Bashore wrote the guide that I've been using to EV train my own Pokémon. It's the perfect guide for first-timers. It breaks down what EVs are, how to choose which EVs to focus on, and even features the best EV-training locations in the game.
These Speed Guides
Speed is of the essence in the Pokémon meta game, and that's especially true in Sun and Moon, where many of the new heavy hitters have sluggish speed stats. This Speed tier guide ranks Pokémon into Speed tiers based on different Natures so you can help make a balanced team.
ProfShroomish has a handy infographic that sorts Pokémon into categories based on how they can affect Speed in battle, such as Pokémon with Speed-boosting abilities and Pokémon that alter turn priority with moves like Trick Room and more.
A lot goes into building a competitive Pokémon team, but there's tons of help out there if you're willing to seek it out. Use these resources to take your first baby steps in building your first competitive team.