This Map Reveals the Ultimate Cross-U.S. Train Trip for Under $250
Travel across the U.S. in style.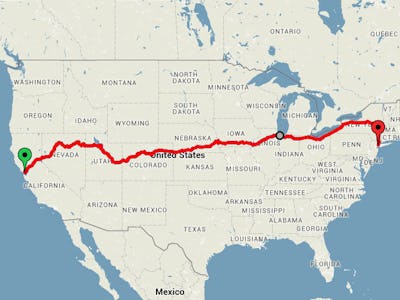 Derek Low
Want to see the sights of the continental United States, but don't want to pay an arm and a leg to do it? You're in luck. Famed for its historic railways, the U.S. rail network nowadays has a reputation of high prices compared to European countries, but it doesn't have to be that way. Travel blogger Derek Low has mapped out an ultra-cheap route that costs just $213 for 3,400 miles and lasts four days without extended stopovers.
Starting in Emeryville, near San Francisco, Low documented his journey. It starts with a 17 hour train to Salt Lake City, offering up some gorgeous views of the lakes as the train trundled past. On day two, Low took a 15 hour trip to Denver, moving through the American Wild West and witnessing the Book Cliffs from the comfort of his train car. As he moved through Colorado, he saw the Colorado River and the Rockies.
On the third day, Low went to Chicago, a journey that takes approximately 19 hours. As he travelled through four states, Low slept: The train offers both sleeper beds and standard seats depending on the price. Finally, on his fourth day, Low went from Chicago to New York City, a trip that takes around 20 hours.
"Traveling by train gives you a glimpse into the soul of America," Low said on his blog. "The experience rewards you with far more stories and experiences and sights than you could ever witness alone in a car, eyes fixed to the road, or on a five-hour flight across the country."
Alternatively, you can get a car and drive across the country. Researchers have determined the optimal map for visiting national parks, while one guy has taken it a step further and mapped out all 375 national park attractions in one mega route. Of course, these will probably end up costing a lot more than the train, and Low believes it's possibly the best way to see the states in style.
Read about the route and book Low's planning services here.