Your Ultimate 2017 New Year Hip-Hop Playlist
Rain drop, drop top, where you gonna be when that ball drop?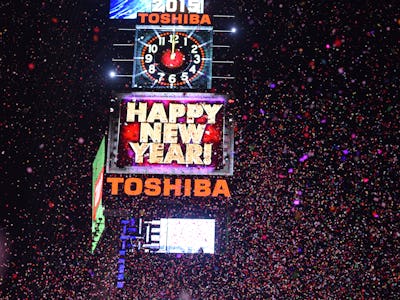 Getty Images / Andrew Theodorakis
We are about to usher in a brand new year, and whether or not you believe the world is about to come to an end soon, the New Year is always an exciting time. Everybody is filled hopes, dreams, and New Year's Resolutions which they will ultimately fail to accomplish by the year is up.
People will tweet out, "New year, new me" with the expectation that they will be a whole new person in the coming year, but will ultimately fail at that too. But, for a brief, small moment, we are filled with joy that we are able to see a new year.
2016 was trash, but there's still a chance that 2017 might be better. When that ball does inevitably drop, we should be bringing in the New Year with sounds that encompass the past year and fill us with joy and happiness. Here's the ultimate New Year hip-hop playlist for 2017.
1. Future — "Buy Love"
Future recently released this song on December 28 as his one last ode ballad of 2016. Even though the song may not be the best thing to listen to on the first listen, Future has a way of making songs that grow on you. And besides, it's Future. I will bet money that at least half of the party knows the words to the song already.
2. Lil Uzi Vert — "Ps and Qs"
The success to a good party is to keep things upbeat for a general portion of the function. Everybody will be drunk so you don't want to play anything that is a downer. With a melody that sounds like it came straight out of a Campbell's Chicken Noodle Soup commercial, "Ps and Qs" is the perfect song for your belligerently drunk friends and family.
3. Travi$ Scott — "Way Back"
Leave your haters in 2016. As Travi$ sings about needing fake people to "get way back," you will be struck with the urge to wave your middle finger in the air as you say goodbye to those people who wish to make your life miserable. Just make sure they're not at the party. That might create some problems in the near future.
4. Kid Cudi feat. André 3000 — "By Design"
The motto of 2017: "Don't fuck with the feng shui."
5. Big Sean "Bounce Back"
You may have taken your fair share of L's in 2016, but 2017 will be the year that you "bounce back." Stay positive and hopefully all things will come tome to you in the new year. Besides being a model song of positivity, you can twerk to this song, as well — an added bonus, no doubt.
6. Migos — "Bad and Boujee"
Migos is dominating the airwaves as we bring this year to a close. It's only right that you play "Bad and Boujee." Rain drop, drop top, where you gonna be when that ball drop?
7. 21 Savage feat. Future — "X"
For every person who will be having a New Year's kiss, there will be another person who just broke up with their ex or bae before the New Year began. This song is for them so they too, can be merry and flex on their ex.
8. Phresher feat. Remy Ma — "Wait a Minute Remix"
Phresher delivered a banger this year with "Wait a Minute." When Remy Ma hopped on the track, it became even better. What intro bar of any song this year is funnier than "Big head, Jimmy Neutron?" Not one.
9. Young M.A. — "Ooouuu"
You have to end the year with one of the hottest tracks of the year. It seems no matter how many times it was played, it never got old. So hit that schmoney dance and sing "Ooouuu" at the top of your lungs.
10. Rowdy Rebel feat. Bobby Shmurda — "Computers"
May your milly rock forever be sturdy, especially on New Years. Free Bobby and Rowdy.
11. Crime Mob — "Knuck if You Buck"
"Juju on the beat" may be cool right now, but "Knuck if You Buck" is timeless. There are only so many songs that could bring the whole party to their feet and angrily rap at each other, and this Crime Mob classic is one of them.
12. Gucci Mane feat. Plies — "Wasted"
It was a good year for Gucci Mane. He was released from prison and dropped and endless slew of songs. But, this Gucci party song will forever be one of his best. No song better describes how you will be on New Years.
13. Birdman feat. Lil Wayne — "Pop Bottles"
Reminisce on the days when Lil Wayne and Birdman were not beefing and Weezy still referred to Birdman as "daddy." The bubbly will be flowing and bottles will be popped when that ball drops.
14. Shawty Lo — "Dey Know"
R.I.P. Shawty Lo. He left us this year, but his music will always live with us.
15. Boosie Badazz feat. Foxx and Webbie — "Wipe Me Down Remix"
You have to pull up clean to the party. Wipe yourself off and go into the New Year with confidence. And remember if this song comes on and there are members of a Black fraternity present, get out of the way. You do not want to get hit by a stroll line.
16. T-Pain feat. Yung Joc — "Buy U A Drank"
If you see that special person from across the room, walk over to them and offer them a drink. Then, maybe, you will not be kissing yourself when the ball drops.
17. Kanye West feat. T-Pain — "Good Life"
Be happy that you're alive and made it to another year. Your life may not be perfect, but there is so much to be thankful for.
18. Mark Morrison — "Return of the Mack"
"Return of the Mack" is a song that just oozes joy and will make you hit the best two step of your life.
19. F.L.Y. — "Swag Surfin'"
Grab the nearest stranger, form a big circle around the room, and start surfing. This song builds comradery and forges friendships that will last past the party.
20. Fabolous feat. French Montana — "Ball Drop"
Say goodbye to those old New Year songs and bring it in right with a New Years rap classic. Fabolous and French delivered a song that will be played for many years to come.
Happy New Year!