The Most Anticipated Games of 2017
We're excited. Are you excited?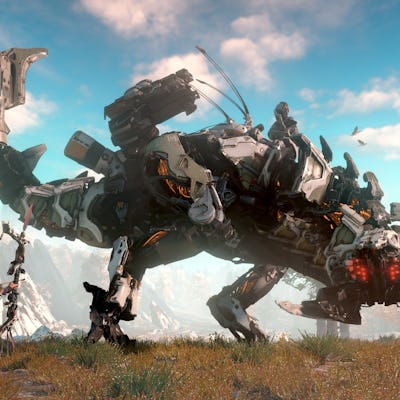 GamesRadar
If you thought 2016 was a busy year for games, think again. 2017 has big things in store with at least one major release coming every month of the year. We hope you've been saving because things are about to get ridiculous. Join us on this journey as we take a look at the biggest games you should be looking forward to in the New Year.
Resident Evil 7: Biohazard
Resident Evil returns at the end of January with a brand new story that hopes to stay true to the series's survival-horror roots while trying new things. This is good news for fans, as the games have been criticized in recent years for presenting too much of the same old stuff. Resident Evil 7 could very well set the tone for the future of the franchise.
For Honor
First announced at E3 2015, For Honor hacks and slashes its way into stores Valentine's Day. Players can fight it out as various types Samurai, Vikings, or Knights in melee combat. There are no guns here, so the old-school battle tactics might be a welcome change from games like Battlefield and Call of Duty.
Sniper Elite 4
This stealthy shooter is back and it promises to be just as gross and gory as its predecessors. Sniper Elite 4 boasts expansive, open maps with plenty of room for exploration. The game's set in Mussolini's Italy, so there will be plenty of Nazi-slaying and other over-the-top action as you try to save the day.
Halo Wars 2
Microsoft is reviving its Halo RTS spinoff in February. Expect some much-needed console strategy and juicy Halo lore. The game's also introduced a new, highly formidable enemy type: the Banished.
Horizon Zero Dawn
This PS4 exclusive is set in a bizarre post-apocalyptic wilderness where robotic dinosaurs roam the wastes of human civilization. Expect a massive open world, creative and powerful combat abilities, and did we mention robot dinosaurs? We're just going to leave the trailer here in case you weren't convinced.
Nier: Automata
2017 is a big year for JRPGs too, with titles like Persona 5, Ni no Kuni 2, and PlatinumGames' Nier: Automata all set to launch. From the creators of Bayonetta comes this stunning action RPG featuring art direction from Square Enix. If you don't want to wait until March, you can play the demo right now on PS4.
Persona 5
It's been a long time coming, but soon we'll be able to get our hands on Persona 5. Atlus has yet to disappoint us when it comes to their cult JRPG series that went mainstream. Persona 5 serves up more high school drama, but this time around the attention focuses on a group of teenage burglars and misfits who come together on a supernatural quest to steal ill intentions from the hearts of grown ups.
Yooka-Laylee
The work of former Rare employees, Yooka-Laylee is an homage of sorts for the late '90s character platformer a la Banjo Kazooie. The colorful world is a fun callback to adventure games of yore, and the quirky characters' abilities match their personalities and animal identities.
Mass Effect: Andromeda
To say people are excited for Andromeda might be something of an understatement. The next Mass Effect game takes us to the Andromeda galaxy as a new team of space explorers sets out to find habitable planets in this new frontier. The series looks better than it ever has, and the promise of an open galaxy has us all eagerly awaiting.
The Legend of Zelda: Breath of the Wild
Following on the heels of the Nintendo Switch, Breath of the Wild welcomes a new generation of Zelda games. A gorgeous open world with a distinct Zelda style brings the classic Nintendo franchise into the future, and we couldn't be more excited.
God of War
God of War is set to make a comeback in 2017, starting afresh in a new Norse setting. The game is expected to feature more character development and a stronger emotional pull as you play father to a young son with magical abilities.
Scalebound
It's a big year for PlatinumGames, as they launch epic dragon pet sim Scalebound just months after Nier: Automata. Your dragon, Thuban, helps you take out titanic enemies, and when you need a change of pace, you can even turn into a dragon hybrid yourself. It's totally over the top, but we think we'll love it for that very reason.
Marvel vs. Capcom: Infinite
Expect more comic book/video game fighting game madness when this game launches this summer. While it's sure to have a punchy single-player campaign, the multiplayer is expected to play a big role in the future of esports.
Red Dead Redemption 2
We know next to nothing about Red Dead Redemption 2, but if it's anything like its predecessor there's plenty of reason to be pumped for this upcoming Rockstar title. Will we see a new protagonist? A new map? Who knows! Concept art suggests we'll be taking up a spot on a team Magnificent Seven-style, but that's all speculation for now.
So yes — 2017 is going to be jam-packed, and this list only mentions a handful of the games releasing in the new year. We're going to need peerless time management skills or some sort of time machine if you want to fit in all of the great-looking games headed our way this year.