Exclusive 'One Piece: Gold' Clip Reveals Crazy Rich New Villain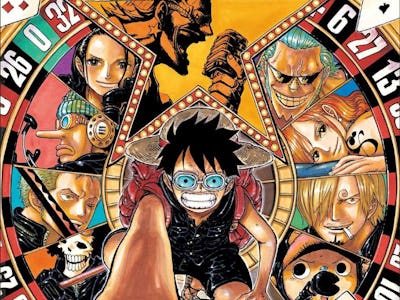 Wikia
After debuting this past summer in Japan, One Piece Film: Gold begins a limited run in U.S. theaters on January 10. It's exciting news for patient fans, and Inverse has an exclusive look at the movie.
Luffy and the Straw Hat Crew will take on their wealthiest enemy to date (if we do not count the Celestial Dragons). The film follows the crew on a trip to Gran Tesoro, a rich ship that features a casino, hotels, and a theme park. The ship is so big and wealthy that it has been declared an independent country by the World Government. However, the Straw Hat crew will discover that "all that glitters is not gold," as the owner of Gran Tesoro and the emperor of the country is actually a greedy tyrant who stops at nothing in his desire for wealth and power. Our exclusive clip details the wealth and opulence that the crew encounters in the new film.
Fans of One Piece will be happy to know that the film takes place following Luffy's battle with Donquixote Doflamingo in the Dressrosa Arc of the manga. Every member of the crew has their updated bounty following their fight on Dressrosa, which cannot mean good things for the Straw Hats in their battle with a wealthy despot. Eiichero Oda, creator of One Piece, is an executive producer and drew the new outfits for the crew.
Funimation will release the movie in theaters for a week, from January 10 to 17.