The World's First Mech, Method-2, Just Took Its First Steps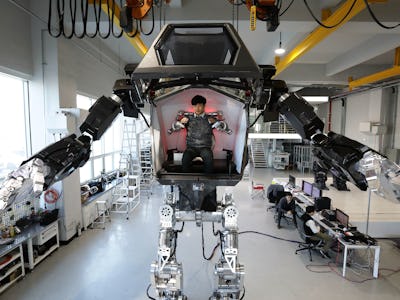 Getty Images / Chung Sung-Jun
Yang Jin-ho wanted to build a giant mech for the same reasons everyone does — because they're pretty damn cool. The chairman of South Korean robotics firm Hankook Mirae Technology conducted the first tests of his Method-2 mech on Tuesday, and the results are stunning. The company claims it's the world's first manned bipedal robot. Although its creator hopes it will help people complete tasks in treacherous areas of the world, the truth is the machine wasn't made with a real purpose in mind.
"The robot is one year old so it is taking baby steps," Yang said in a report published Wednesday. "Just like humans, it will be able to move more freely in the next couple of years."
It's a labor of love. The Method-2 has been in development since 2014, when Yang invested 242 billion won (around $200 million) to make his childhood dream come true. It stands 13 feet high, weighs over 1.5 tons, and each arm weighs nearly 200 pounds. All this weight means the ground shakes as it moves. Where currently it's tethered to a power source, Yang hopes to remove the cord at a later point as the team decides on the robot's best applications.
The machine, which looks like one of the titular Metal Gear mechs from the Metal Gear Solid series of video games, was designed by Vitaly Bulgarov. He's worked on a number of sci-fi films in the past, like Terminator and Transformers, and those influences show through in the bot's look.
Until the bot hits the mass market (assuming it ever does), mech heads can set their sights on the many exoskeletons already available. They're not quite as cool, but they wrap around a user to boost strength and grant new abilities. Some, like the under-development U.S. military's TALOS suit, looks like something out of Iron Man, while the SuitX MAX helps workers pick up heavier objects than ever before. They're a more realistic way of getting your super suit fill, but it's fair to say they're not quite as cool as a giant Method-2 sat in your garage.
Watch the machine in action in a Facebook video here.