Is Santa Daddy?
Saint Nicholas has become the sex symbol Americans agree on.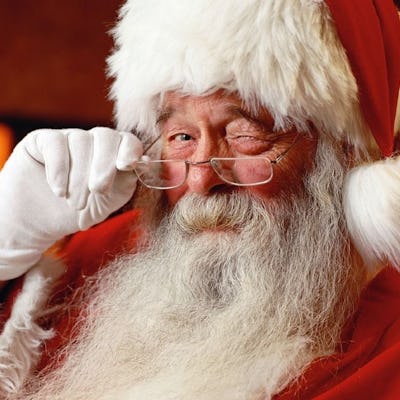 Flickr / illustir
Every December, children around the world wait for a man with a white beard and a velvet suit to squeeze down their chimneys and leave presents under a coniferous tree. Meanwhile, adults busily fantasize about that same generous trespasser stuffing their own personal chimneys. Santa Claus is the most culturally and sexually in-demand man on Earth during holidays — and statistics prove it. But why does a Coca-Cola marketing gimmick turned quasi-religious capitalist icon double so effectively as a compelling character in seasonal porn? Why do so many people lay in bed at night imagining getting plowed by a married man? Is Santa daddy?
"He's large and in charge, but he's also caring and jolly. He knows when you've been bad or good, so he's got that Daddy intuitiveness," Lee Roy Myers, CEO of the porn parody production company Wood Rocket, told Inverse. "He can fly. He's a Daddy."
Daddys are all the rage as of late. It's hard to pinpoint where exactly the term came from, but in gay culture it's typically an older man sexually involved with a younger dude who is open to a father-son dynamic (think: having a catch then having an orgasm). But the term has also been adopted by women, who use it to describes sexy older men or the maturing of an already hot dude. Being "Daddy" doesn't necessitate having a child, just some sort of authority or power. "Fuck me daddy" has become a colloquial phrase among the young people who don't necessarily want to actually be fucked, but want to express admiration for a man's looks and mien. The Pope gets called Daddy a lot.
Given all that, Santa makes sense as a sex symbol. Though not sexy in a traditional mold, he is a strong leader known for being spry despite his advance age. People are in to that to the tune of a lot of porn searches. At the end of 2015, "santa" was the second most popular Christmas-themed search on Pornhub. And this past year, the query has increased 447 percent above normal search levels. Though it's not unusual for people to alter their masturbation routine to incorporate cultural holidays, this surge of interest in stocking stuffing is notably extreme.
"Users are very seasonal with their porn — for example, in the summer, bikini and beach searches spike — and Santa is synonymous with Christmas so users searching for Santa during this time of the year makes sense," Pornhub Vice President Corey Price tells Inverse. "Also, there aren't many other Christmas figures for which to search — aside from Mrs. Claus, the elves and some reindeer — the choices are a bit limited for those looking to get into the holiday spirit on Pornhub."
In a sense, he's making the argument that Santa is both Daddy and Christmas. Perhaps Christmas itself is a cultural Daddy of sorts, a means of accessing a specific sort of sexual nostalgia.
In terms of what comes up when one searches for Santa porn, theres somewhat of a variety. There's indeed videos of men that look a lot like the real Santa coming in expecting milk and cookies and receiving either a vagina or penis instead. There's something tantalizing about the idea of being screwed by the man you've been good for all year in hopes that he'll bring you a Skip-It. Many of the videos play on that specific sort of submission. Being on the naughty list has its perks.
At the same time, some of these Santas don't quite fit the build of the Santa from Miracle on 34th Street. In a good portion of the videos, it's a buff dude with defined muscles in Santa's clothing. These performers don't look like old Greek saints, but they still usually fit the daddy archetype: Their vigor reinforces the idea of an authority beyond their years. Most of the videos aimed at both gay and straight audiences portray the Santa character as the penetrator. Santa remains dominant about 90 percent of the time — enough that it's jarring when he bends over.
It's also worth noting that there's a lot of porn with a Santa-type character being portrayed as a woman. As Pornhub's analytics show, "christmas milf" and "mrs claus" also are popular search queries during the holidays. These figures are generally commanding and confident. They are Daddy in the most mommy way possible.
Santa foregrounds the idea of Daddy during the holidays, providing access to very traditional gender scripts or an easy way to flip them. He has become something rare, a sexually awakened older man that is willing to forgive naughtiness in others. He upholds tradition without shoving it down anyone's throat. He is not only Daddy. He is a good Daddy.
"Santa gets some folks wet in their Christmas stockings," Myers says. "A man confident enough to eat cookies and drink milk left by strangers is a man that's confident in the sack."