The 10 Greatest Hip-Hop Projects of 2016
Chance the Rapper wasn't the only one to release something great this year.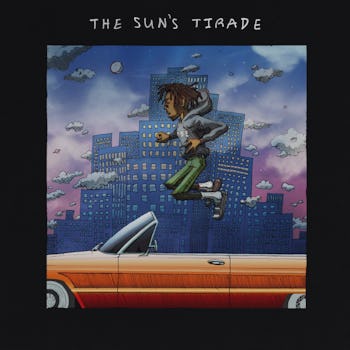 Wikimedia
We are constantly being bombarded with new music and the ability to stream it on different platforms. Although a mixtape would normally be considered a separate body of work, and not usually fall into the same category as an album, 2016 has revolutionized the way we view both albums and mixtapes. Chance the Rapper's Coloring Book, which is technically a mixtape, is the first streaming-only project to be nominated for a Grammy. Chance has forever blurred the line between a mixtape and an album. However, the denomination between the two is only for awards and the charts. The two have always had little separation in the rap community as we have always recognized the importance of the mixtape. Therefore, we should consider the entirety of the art form when considering the best music that came out in 2016. Here are the best rap projects of 2016. If you did not hear any of these titles, then there is still time to play them before the ball drops and we enter the new year.
10. DJ Khaled: Major Key
The ninth studio album from DJ Khaled, Major Key, was a combination of multiple rap styles and personalities. The album has guest appearances from Jadakiss, Nas, Drake, Nicki Minaj, Bryson Tiller, Future, Jay-Z, etc. But DJ Khaled's ability to bring multiple people together to create a good body of work has always been his best talent, and it shows on this album. And he makes sure that the album is not a basic rap album of turned collaboration songs. If you believed that the entire album would be like the first two singles released off of the album, "For Free", and "I Got the Keys," then you would be wrong. The content is deep and rich at times — talking about success, redemption, and even police brutality.
9. Kendrick Lamar: Untitled Unmastered
Not many people can release a collection album of unreleased and somewhat unfinished tracks, and people still think that it is one of the best works that they have ever heard. Kendrick Lamar did just that with Untitled Unmastered. Kendrick Lamar's analysis of real world issues is stunning — tackling most rap topics that others would shy away from. We normally don't gravitate to this type of music because nobody wants to be reminded that the world is shit while they're traveling to work in the morning. But Kendrick Lamar is one of the few rappers who is able to get people to listen to him, even if the records are not finished.
8. Isaiah Rashad: The Sun's Tirade
Isaiah Rashad's battle with drug and alcohol addiction almost got him dropped from TDE and we probably would never have gotten to hear the rapper's first studio album. Rashad is the underdog of TDE, but he has the ability to rap and flow with the best of em'. The Sun's Tirade displays the ups and downs that he was dealing with. His problems are put on the forefront and we are able to feel his emotion, a quality trait that TDE artists are known for.
7. A$AP Mob: Cozy Tapes, Vol 1: Friends
Despite being a dope, funny myriad of songs that display the flavor that the A$AP crew is known for, the concept behind the album is as important as the music. The idea for the tape was started by A$AP creative director, A$AP Yams, who tragically passed away in January 2015. The album feels like it is made in tribute to Yams. It is not always about the bars or the rapping, but the style, bravado, and image that one brings to the collective. A$AP has always been about fly guys from Harlem just making music. A$AP wants to remind us that nobody will ever be flyer than them. "I'm coming through cozy."
6. Lil Uzi Vert: Lil Uzi Vert vs. The World
Lil Uzi Vert always seems to stay one step in front of his haters. The man wants to be a rock star, and his fourth mixtape Lil Uzi Vert vs. The World is an example of that. The entire tape is fun. You could tell that Vert isn't trying to subscribe to some sort of rap style. He's different. Not to mention, the album has one of the best cover art of this year.
5. Kid Cudi: Passion, Pain & Demon Slayin'
After his time in rehab, Kid Cudi returned by releasing one of the best hip-hop albums of the year. Cudi has always had a different style that made him attractive to a certain niche of music listeners. He returns to that niche and produces an album that sounds like it belongs right after Man on the Moon II. The album feels other-worldly as Kid Cudi sings/raps about vibes, the cosmos, and frequencies. But Kid Cudi has always been important because of the hope he seeks to give people who also struggle with mental issues. He provides hope by creating music that listeners can feel and identify with.
4. Vince Staples: Prima Donna
Prima Donna is the second EP from Long Beach rapper, Vince Staples. The EP is only seven songs long, but in this short time, Vince manages to deliver a solid combination of lyrics and production that would put other musicians to shame. Vince Staples is wise beyond his years, and it shows as he raps about reality and the lies that we are fed. However, we cannot forget that he is a young gang member from California and his music is heavily influenced by that lifestyle, as well. Vince Staples is the best of both worlds and shows that being smart and being from the "hood" are not mutually exclusive.
3. Travis Scott: Birds in the Trap Sing McKnight
Travis Scott is an innovator of sound. If you take a look at his early work, like Owl Pharaoh, you will realize that Travis Scott was creating his own sound before others started to replicate it. Birds in the Trap Sing McKnight is a complete body of work with repeat playability. Skipping over tracks on this album almost feels like a sin. To understand what I am talking about, I recommend finding the loudest stereo in your vicinity and blasting the album. Your ears may bleed after, but will still thank you for this album. Pain is pleasure, right?
2. A Tribe Called Quest: We Got It From Here…Thank You 4 Your Service
The final album from rap legends, A Tribe Called Quest, was both a blessing and deeply saddening. It is the first album from the group in 18 years, but the release came on the heels of the death of Tribe member, Phife Dawg. What we received was nostalgia, in an album that feels like Tribe hasn't skipped a beat. The album is a reflection and critique of society. For people who love the '90s, the album was a welcomed reminder of old times.
1. Chance the Rapper: Coloring Book
The first "mixtape" to be nominated for multiple Grammys, Coloring Book took a formula that Kanye West made popular, and made it even better. Chance uses gospel rhythms and samples to create an album that feels like a quasi-gospel album. But similarly to Kanye on his first album College Dropout, Chance does not simply make gospel songs. He makes songs that can be played on the radio in "No Problem", trap songs for the new generation in "Mixtape", and love songs like "Juke Jam". Coloring Book is a gem and, hopefully, it'll win every single Grammy it is nominated for, and many more awards after that.