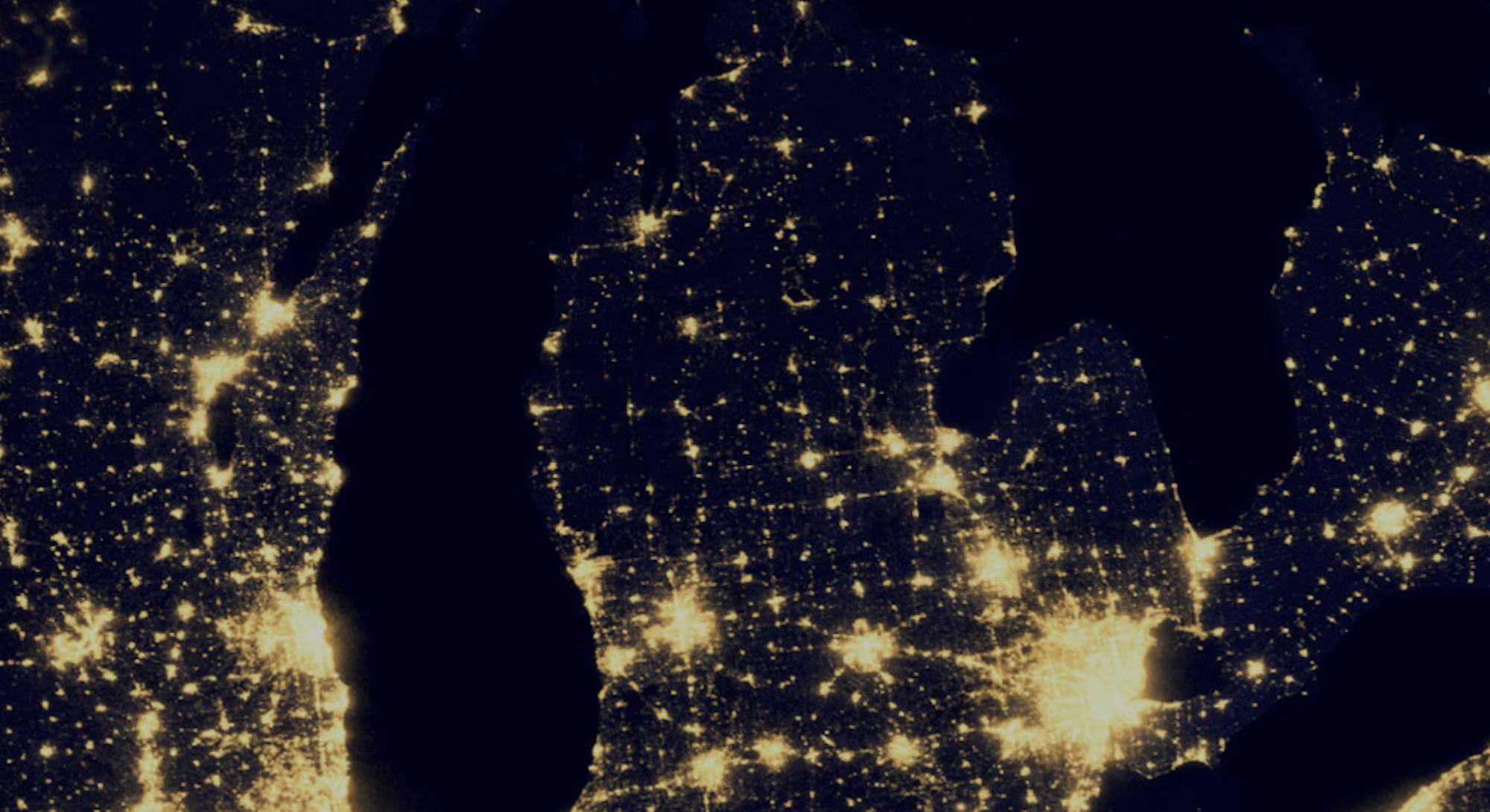 Culture
FUTURE CITIES | Flint, Michigan
One city's water problem could lead to a solution for many cities' water problems
JPL
Water is a basic necessity for human survival, yet a year after city government officials declared a state of emergency, the residents of Flint, Michigan, are still drinking it from plastic bottles.
The city's much-publicized water crisis started in April of 2014 when then-mayor Dayne Walling pressed a small, black button at Flint's water treatment plant. With local politicians and the media watching, Walling switched Flint's water source from Detroit's Lake Huron supply to the Flint River, long a dumping ground for human and industrial waste. This did not go well and, within weeks, it was clear that a toxic combo of contamination and chlorination had begun corroding lead water pipes and, via that mechanism, poisoning city residents. The government stalled for over a year before acknowledging the situation then went into damage-control mode. Today, tap water in Flint still runs somewhere between blood red and shit brown in color. Drinking or bathing in it is ill advised.
Flint residents have often been portrayed by the media as victims of a decision beyond their control, but local innovators haven't waited passively for policymakers to step in and rescue them. With financial support from Google, computer scientists from the University of Michigan have created digital tools to direct citizens toward vital resources in their struggle for clean water. The MyWater-Flint platform is an app and website that shows residents where to find bottled water, filters and testing kits, as well as mapping water contamination levels throughout the Flint area.
While the app doesn't address the cause of Flint's water pollution, it does let citizens know how to protect themselves – a welcome development given the alarming levels of inaction from local government. "The State of Michigan never sent out any warnings about lead in the water," says Melissa Mays, a Flint resident and founder of advocacy group Water You Fighting For.
In the face of a full-blown water crisis, communications from local authorities were lacking, to say the least. "Residents rely on the activist and community groups that have been speaking up since the beginning of the crisis," Mays explains. "We're the ones that problem solve, truly listen to residents, and make sure each of us is cared for."
According to Miyako Jones, lead web developer on the MyWater-Flint team, locating this information before the app was like trying to solve a cryptic crossword with half the clues missing. Now anyone with an internet connection can monitor the lead levels in their neighborhood with MyWater-Flint.
"The app and website will make it easier for people to know what's going on with their water supply. It gives people information so they don't feel helpless, Jones explains. "These tools are supposed to be a template for other developers, too. We want any city that's having problems with its water supply to be able to put its name after 'MyWater' and protect its residents."
The MyWater-Flint code is open source, meaning other developers have permission to rip it off, improve on it, and build it into their own projects. Jones and her team hope the code will help other cities deal with water scarcity issues by enabling residents to collate and coordinate public safety information with ease. When almost 70 percent of Americans have a smartphone, and 84 percent use the internet, no one should have to rely on snail mail or word-of-mouth to tell them how to access something as basic as safe drinking water.
On December 9th, the U.S. Senate passed a bill that will provide $170 million in funding for the removal of Flint's lead pipes. The city switched its supply back to Detroit's Lake Huron in October 2015, but damage to the pipes means that lead continues to leak into the water. Replacing infrastructure is the only real solution, but data from September suggests that fewer than 200 pipes have been repaired so far. Until funding translates into real change, citizens will have to rely on resources like MyWater-Flint to ensure they don't ingest toxic levels of lead.
But water crises in the U.S. don't start or end in Flint – far from it.
A report from the Natural Resources Defense Council published in June revealed that 5,363 water systems – serving more than 18 million Americans – were in violation of government regulations designed to protect people from lead poisoning. If that weren't bad enough, an investigation by the Guardian, also published in June, revealed that at least 33 U.S. cities, including Boston, Chicago, and Philadelphia, have actively masked the lead levels found in their water during tests.
With chemical contamination in the Texan city of Corpus Christi causing water to become so corrosive that it burns human skin, and the explosion of a chemical plant contaminating the water supply in Neodesha, Kansas, crises involving water pollution are becoming more and more common. In the years to come, apps like MyWater could become the difference between life and death for millions of Americans. And Flint will have helped build a great American product once again.