Mark Zuckerberg Got Morgan Freeman to be the Voice of His A.I.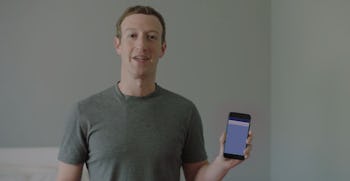 Getty Images / Jamie McCarthy
Morgan Freeman has taken on the role we all secretly want to see him play: the voice of a smart home's artificial intelligence system. On Tuesday, Facebook CEO Mark Zuckerberg uploaded a new video of his Jarvis A.I. assistant, featuring the Shawshank Redemption star as the guide to the family's home automation system.
Jarvis is impressive stuff, and the video gives a great rundown of its features. It can control music, switch on and off lights, activate household appliances and speak to baby Max in basic Chinese. Zuckerberg has been working on the project for nearly a year, making it his New Year's resolution, and he's documented his progress over the past year on his public blog.
Unfortunately, Zuckerberg confirmed in the user comments that the video was not a live demo, and merely a fun demonstration of Jarvis' features. Still, it's clear Zuckerberg is thinking what we're all thinking: a Freeman-voiced A.I. is what everybody wants to see.
It hasn't been an easy project for Zuckerberg. In a Monday blog post, he explained some of the problems he'd encountered with getting older devices to work with Jarvis. He had to replace his modern toaster with a 1950s-style appliance that could work better with a connected switch. Even the CEO of Facebook struggles to get the Internet of Things future all speaking to each other. As the project nears its end, it's unclear that Zuckerberg has any plans to launch the assistant to the public, but it's possible that some of the development feeds into a future Facebook project.
Of course, Jarvis won't work miracles. As demonstrated in the video, it can't find any good music by Nickelback.
Zuckerberg's wife, Priscilla, had her own video that showed Schwarzenegger as the original voice of Jarvis, before Freeman got the gig: