'SNL' Showcases Gay Robot Because It's 2016
Robots can be anything they want to be, including gay.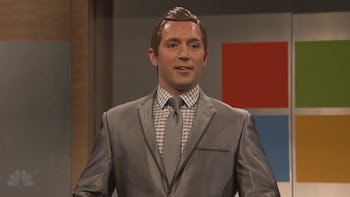 SNL
Casey Affleck hosted this week's episode of Saturday Night Live, playing in one sketch a confused consumer who just can't understand why Microsoft made a gay robot.
Kate McKinnon and Fred Armisen play Microsoft employees presenting the company's latest and greatest robot (played by Beck Bennett) at a tech conference. McKinnon's character points out that the robot will increase office productivity, but that's not all. "It's also gay," she says. "Because, why not?"
After the chipper presenters introduce the robot, dubbed Helix 900, Bennett begins to rattle off an impressive lists of capabilities before adding that he's attracted to men. "They are sexy to me," he says.
Here's where Affleck shines. He plays an audience member, who questions why a robot would be programmed with a specific sexuality.
"Why did he just say he was attracted to men?" Affleck asks. McKinnon explains that it's because Helix 900 identifies as homosexual. "Ok, ok cool," replies Affleck, "but why?"
Armisen quickly chimes in to back her up, claiming that it's 2016, and office robots can be gay if they want to be.
Alex Moffatt plays an audience member who tests the robot's skills. He asks the robot to solve a math problem, which the robot does with ease, before telling the audience again exactly how much he loves men.
Affleck's portrayal of a confused customer, who just can't quite grasp how a machine designed to help people work would need to be attracted to anyone, isn't exactly homophobic. Affleck's issue isn't really the fact that the robot is attracted to men, it's that the robot talks about it so much — especially when it's main job is to help with office tasks such as filing.
But as Armisen says, it's 2016. Bring on the gay robots.