Fans are Panicking Over 'Gotham City Sirens' Casting Rumors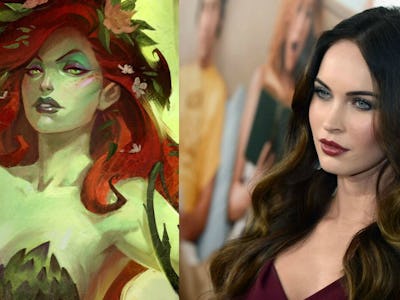 SizlingPeople/lrmonline
If DC's Harley Quinn spin-off movie, Gotham City Sirens, follows the comics from which it takes its name, both Catwoman and Poison Ivy will join Harley (Margot Robbie) in her second cinematic adventure. The most prominent of the casting rumors now bubbling up concerns Megan Fox. Namely, many fans on the internet are concerned that DC will cast Fox as Poison Ivy, Harley's on-again, off-again girlfriend.
The rumor originated in a Bleeding Cool post by Rich Johnston, editor-in-chief. Johnston tells Inverse that a trusted source (who will remain anonymous) confirms Megan Fox recently ordered and received Poison Ivy and Harley crossover comics at her Warner Bros. studio address.
Now, that doesn't necessarily confirm anything other than Fox's interest in the characters. No official announcements have been made, and there is no evidence that the studio is considering Fox for the role.
However, Fox has said time and time again that she's interested in comics and in joining film adaptations. She's already been featured in quite a few movies marketed toward "geeky" audiences, including Jonah Hex, the recent Ninja Turtles films, and, of course, several films in the Transformers franchise.
Of course, Fox's status in the minds of many as a sex symbol only manages to bolster the idea that she is what many misogynistic comic fans call a "fake geek girl." Fox, to her credit, is aware of this characterization, and she's tried to combat it for years.
"This is a very thin line I'm walking here, [by] letting you say that I have comic book credibility or nerd credibility," Fox told MTV News in 2010. "That world is an elitist world, the comic book world. And I don't have the extensive rolodex that most of them have. I'm saying that aloud. I grew up loving mainstream comics like X-Men, Gen 13, Witchblade and things like that. I have some knowledge, but I'm not a hardcore nerd. Unfortunately, I would like to be, but I just don't have the knowledge."
Even if Fox doesn't end up playing Ivy in Gotham City Sirens — and, keep in mind, an official synopsis for the film hasn't even been released yet, so no one knows if an Ivy casting will even be necessary — people are going to freak over whomever is chosen.
Gotham City Sirens is slated for a 2018 release.