FUTURE CITIES | Edinburgh
The birthplace of the invisible hands wants to be seen as the center of a financial revolution.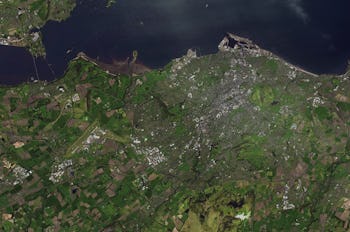 NASA/JPL
The last few years have been rough on Scotland. As though the autonomous region's removal from the European Union against the wishes of its citizens wasn't bad enough, the country is also being sued by Donald Trump for having the audacity to build a wind farm within sight of Trump International Golf Links. Not incidentally, the catalyst behind local political turmoil also lurks a little ways off the coast, just a bit farther north and straight down.
Since the discovery of vast oil fields within its maritime boundaries, Scotland has dreamt about divorcing England and turning Edinburgh into a capital city. In the wake of 2014, referendum on Scottish independence going south on at least two levels and oil prices dropping, the dream of being an oil-rich, independent republic has been deferred. But Edinburgh, a center of innovation since Adam Smith stalked 18th-century Holyrood, remains a city of well-educated workers aspiring to lead. Eager to provide what assistance it can, the Scottish government is now working with entrepreneurs to turn the city into the global epicenter of financial technology.
"Edinburgh has a long history, handles huge amounts of funds each year, and is already internationally recognized as a financial city," says Danny Meaney, founder of startup accelerator UP, which is set to run another fintech program in Edinburgh early next year. "The startup ecosystem in Edinburgh also works extremely well for early-stage tech."
If Edinburgh is to succeed at diversifying the local economy, leveraging non-liquid cultural assets, particularly the strong sense of city comradery, will be critical. "It's pretty much like a big town where everybody knows everybody, and it's much easier to make a startup ecosystem work when there's mutual trust and a good track record," Meaney adds.
In a lot of respects, this metropolitanism might be seen as a microcosm for what's happening in the world. Cities are taking prominence over nation-states and the far-removed political structures that come with governance at that level – and these new realities aren't lost on those involved with Edinburgh's strategy.
"The world is moving more and more towards the concept of cities, which are smaller than countries, meaning they're more personal and easier to manage," says Derek Wyatt, non-executive director at Code Investing, an alternative finance marketplace for small businesses in the UK. "It therefore seems natural that Edinburgh would become Scotland's fintech center if its economy shifts in that direction."
But establishing Edinburgh, or anywhere in Scotland, as a fintech hub comes with challenges. The rugged landscape that brings Scotland 15 million tourists per year also makes features like phone signal and access to broadband a challenge outside of its main urban centers. Cities like Edinburgh and Glasgow are well-equipped (largely thanks to the various multinationals with headquarters there), but as a small country, inclusive strategies are vital in order to ensure the support of the voting public.
"Connectivity is really important for fintech, and that can be quite a challenge in the mountains. To get ahead, it would be good for the Scottish government to take over the decision-making process as to how fibre [broadband] is delivered," Wyatt says. "In a sense, though, Scotland and Edinburgh are running out of time. There are already so many fintech centers in the world, and four or five hubs in London alone."
With departure from the EU pending, London's days as the financial hub of Europe are numbered. Frankfurt, Paris, and Amsterdam are already vying to attract the world's major banks, hedge funds, and private equity firms, but Dublin is most likely to compete with Edinburgh for the title of new European finance center. The Irish capital's proximity to London and generous approach to corporate tax may appeal, but Edinburgh holds its own in the areas of technical expertise and asset management experience.
"Edinburgh has a strong combination of young technical talent and established financial players. The challenge now is to create opportunities for these two groups to collaborate and pursue the innovative solutions that will propel the city, and Scotland, forward in fintech," says Keely Flint, director of strategy at Nile — a research and service design firm based in Scotland's capital.
After hosting a group of financial industry thought leaders in a closed-door dinner intended to articulate Scotland's fintech opportunity in September, Flint is optimistic about the years ahead. "We've heard a variety of brilliant ideas that will help Edinburgh and Scotland lead Europe in this growing space at the intersection of finance and technology," she says. "Much of what's needed — emerging talent, government support, the interest of corporates — is already there. The next step is facilitating collaboration and encouraging innovation."
With the appointment of two fintech 'tsars' this month, Edinburgh is pushing forward to be crowned Europe's next financial hub. The combination of uncertainty over Brexit and the ongoing slump in oil prices has shown that Scotland must diversify its economy. It seems the Scots need something they can bank on, and if their vision for Edinburgh can be achieved, it just might be fintech.