The Best VR Accessories for Oculus Rift, PlayStation VR, and HTC Vive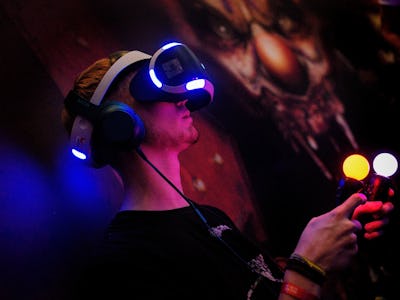 Getty Images / Sascha Schuermann
It's not easy to experiment with VR without breaking the bank. The headsets are expensive, many require a high-powered desktop computer to function, and there are countless apps just waiting to be purchased from nearly as many software platforms. Chances are good that the VR enthusiast in your life has already spent their hard-earned cash on all of those things. So if you need a last-minute gift idea for them, look to accessories that complement the stuff they already bought.
Don't worry. None of the items on this list cost nearly as much as building a PC that's ready for VR or getting one of these headsets.
PlayStation VR
PlayStation VR has the benefit of requiring a PlayStation 4, which comes with its own controller, so most people have everything they need with the headset. But there are some add-ons worth considering: as its name implies, the lollipop-like Move Motion Controller ($100) brings motion controls to the PSVR, while the totemic PowerA Charge and Display Station ($50) makes it easier to charge all the devices at once.
HTC Vive
The HTC Vive already comes with everything needed to use it — two controllers; the link between the headset and the PC used to run it; and earbuds all come included. So the accessories focus more on comfort, whether it's with the aptly named Face Cushion ($25) or the Nose Rest ($13), which also blocks incoming light. VR isn't going to be much fun if someone's face hurts whenever they wear the headset.
Oculus Rift
Just buy them an Oculus Touch controller ($200). The accessory was supposed to debut in 2015, but until Mark Zuckerberg took the stage at Oculus Connect 3 in October, most people hadn't seen much about the device. Now it's here, and chances are good that the Oculus Rift owner you know is sick of playing with the Xbox One controller that came in the Touch's stead. They'll be happy, you'll be happy, and the Rift will finally be complete.
The safe choice
Don't worry if you have no idea what the difference is between the headsets mentioned above — or if you don't know if someone has a different product entirely. Just buy them the Leap Motion controller ($80) and Universal VR Dev Mount ($20). It's compatible with most consumer VR headsets, and Leap Motion is making some of the coolest motion control tech in VR.