The Anki Cozmo Robot is 2016's Most Groundbreaking Christmas Gift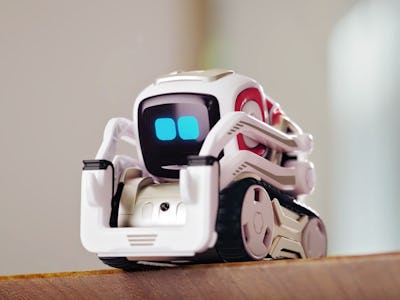 Anki
Stuck for what to get your relatives for Christmas? You could do much worse than the Cozmo robot. This little rover feels like it is from the future: Anki's bot has a number of cool features, like human detection, emotions, and gameplay. It's like having your own personal version of Eve from Wall-E.
Owners control Cozmo from an app, available on iOS and Android. This is where the real magic happens. You can guide Cozmo to explore the house, greet people, play a variety of games, and even detect cat and dog faces. Imagine having a personal bot that's always willing to hang out and learn about the world! Regular updates will add new functionality over time, with the hardware acting as a base level much like how iPhones receive regular app updates.
Real emotions show up in its expressive eyes. It loves to play games, and even does a little dance when it wins. Made of over 300 parts, Cozmo has been designed with sturdiness in mind. This isn't gonna be one of those "throw to the back of the drawer" things, and thanks to a solid set of software tools, the bot is likely to receive many updates in future.
The Cozmo software development kit (SDK) allows budding tinkerers to come up with all sorts of new applications. It's powered by Python, a relatively straightforward language to pick up, and supports a wide number of application programming interfaces. Got a smart home? Use IFTTT to tell Cozmo to turn off the lights when you send a tweet its way.
Cozmo's basic functionality is interesting, but the SDK should be where it really comes into its own. Hackers have come up with a number of uses for the $5 Raspberry Pi, like the PoisonTap hacking tool that bypasses laptop security, or the 256-computer SeeMore art installation at the New York Maker Faire. Cozmo's mini-bot takes this to an all new level, and it'll be fascinating to see what people come up with.
At $179.99, it may be outside the realm of affordability for many, but it hasn't stopped eager shoppers from snapping up Cozmo and leaving Anki's stock depleted. The site offers a convenient stock notification system to alert when the bot is back in stock, but it might be worth going through a third-party retailer instead.
Watch it in action here: