There's a New Taylor Swift Song, But Don't Expect a New Album in 2016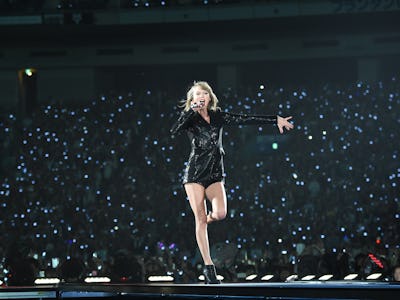 Getty Images / Jun Sato
Taylor Swift has traditionally released a new studio album every other year, but with less than a month to go, it looks like she's bucking the trend for 2016. However, on Thursday night, the 1989 singer dropped a new song with Zayn for the Fifty Shades Darker soundtrack called "I Don't Wanna Live Forever." It's not unusual for major pop stars to release a single right before a surprise album at the end of the year, but it doesn't seem wise to expect anything from Taylor just yet — she doesn't seem like the type to announce her imminent return with a soundtrack cut where she takes a back seat.
The song might very well go on to be a major hit. Two of the songs from the Fifty Shades of Grey soundtrack, The Weeknd's "Earned It" and Ellie Goulding's "Love Me Like You Do" both got a ton to play, and placed high on the charts. "I Don't Wanna Live Forever" could be a smash as well, even if it's not that great. There's a reason why Taylor gets second billing behind Zayn, who can charitably be described as a sexy try-hard. He's a lot less sultry and a lot more boring than he thinks he is, and Taylor doesn't get to show off a lot of personality on the track to counteract his crooning.
The early reviews on Reddit's /r/popheads board were not especially kind.
"This is milder than vegannaise that's been 'cut' with pureed soft tofu to lessen the 'strong taste' before being spread on untoasted Wonder Kid's White Enriched Flour Bread, with a side of pedialyte mixed with twice the amount of suggested water, room temp," wrote redditor joshually.
"So about as hot as fifty shades of grey then," added ponyproblematic.
It's been a rough year for Taylor Swift. She picked a fight with Kanye West and Kim Kardashian, and lost — big time.
Swift stayed so under the radar for the back half of 2016 that she couldn't even be bothered to endorse Hillary Clinton and make her part of the squad. It makes sense, then that she would reemerge for the first time in a while on a popular soundtrack cut alongside Zayn, an artist with a huge following. It's an incredibly safe bet, and sharing the limelight with another musician takes some of the pressure off.
She'll probably release a new album in 2017, but it's unlikely that "I Don't Wanna Live Forever" heralds a new release right away — and who knows if it'll even be on a studio album.