Nikola Motors Wants to Use Tech to Fix Trucking's Millennial Problem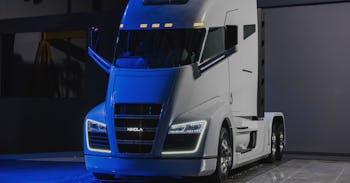 Nikola Motor Company
Nikola Motor Company has gotten a lot of attention for its hydrogen-powered trucks. And it should: Hydrogen fuel cells make the trucks environmentally friendly, more powerful than diesel-reliant vehicles, and safer than their predecessors. But that's not what excites Nikola CEO Trevor Milton about the company's vehicles. Rather, he becomes most animated when he talks about how the trucks make drivers happy.
"We did what no other trucking [original equipment manufacturer] is willing to do: We went down to a truck stop and spent months asking drivers questions rather than thinking we were so arrogantly smart," Milton tells Inverse. "We wanted to know everything a driver felt. That's why we built this truck. It was a compilation of thousands of hours at a truck stop asking every question that you could possibly think of." The result is the Nikola One sleeper truck and the Nikola Two delivery truck.
Nikola One has more amenities than many apartments: It comes equipped with a 4K TV, integrated Apple TV, and wifi to connect them. The truck also has a full-sized fridge to help drivers cut the cost of eating on the road, and Milton says the cabin has the most storage space of any of its competitors. The large cabin also made it so Nikola could rearrange the front of the cab to make it easier and safer for drivers to get in or out of their vehicle-slash-home.
Those features serve another purpose: attracting millennial generation drivers.
"The older generation doesn't care too much about new tech," Milton tells Inverse. "But the new generation, they love cool stuff. They love fast, they love emission-free, they love electric, they love all those features like you get in a Tesla."
"It's really hard to recruit people into the trucking industry, so this is one of the things that can help with bringing people into the driver market."
Nikola Two doesn't have many of those features, because it's made for shorter trips instead of the cross-country deliveries that will be made by Nikola One drivers. But the truck was still designed to be safer by using a panoramic windshield that provides an unobstructed view of the road. It will also help drivers feel safer, Milton says, because they'll be able to see if any trouble awaits them outside the safety of their cabin when they go to leave it.
Those safety features are meant specifically to appeal to women. "With this truck we give them something that is a lot safer," Milton says, which is one of their biggest concerns. Being all-electric has another benefit, too — younger drivers won't have to figure out how to handle a stick shift, like they would if they had to drive a diesel truck, because the Nikola One and Two simply have brake and accelerator pedals. There are no gears for drivers to switch.
All of these features are meant to solve a common problem: Truck drivers aren't happy. American Trucking Associations report that turnover at large fleets was at 83 percent in the second quarter of 2016. Most industries would consider that figure a failure. It was actually a success for the trucking industry, however, because that's the lowest turnover rate it's seen in the last five years. In fact, that rate has at times exceeded 100 percent.
That's because more truck drivers were leaving the industry entirely. Much of the problem stems from pay, which is lower than many other jobs. But trucking also has a generational problem. The majority of truck drivers in the United States are old — more than 55 percent are more than 45 years old. There were also more truck drivers older than 65 (about 6 percent) than there were drivers between 20 and 24 (roughly 5 percent) years old.
"These other OEMs think fleets control the market. They don't. Drivers do," Milton tells Inverse. He estimates that Nikola's vehicles could reduce that turnover rate by up to 80 percent. Why? "Because you're giving a driver everything he wants. Right now other trucks are not doing that." Making its vehicles more comfortable and safe, he says, will also encourage millennials and women to consider working as a driver when they wouldn't have before.
This approach comes at a seemingly weird time. Daimler, Uber, and Tesla have all revealed plans to replace drivers with autonomous trucks. Tesla CEO Elon Musk even called out truckers when he said that automation will lead to a universal basic income in November. All of these companies want to get rid of truck drivers, and Nikola's over in Salt Lake City designing trucks specifically to make drivers happy.
Milton tells Inverse that this doesn't mean Nikola isn't working on autonomous features. He says that being fully electric means that Nikola One and Two will actually be easier to automate than trucks that use diesel, because the time between sending a signal ("brake") and having the truck respond is shorter. The difference is that Milton wants automation to help drivers, not put them out of work. Well, at least, not the good drivers.
"We're getting rid of the bad drivers and we're putting the good drivers, in these trucks," he says. "And these good drivers will not only drive their trucks, they'll drive many trucks behind them. So you might have a driver now driving seven trucks at once." He expects that these drivers will make between three and five times more per year than they are right now — which would also help Nikola solve the trucking industry's pay problem that makes people look elsewhere.