FUTURE CITIES | San Antonio
Forget the Alamo, Texas's "other city" is booming.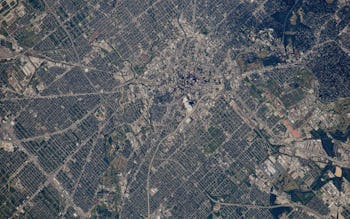 NASA
Americans have complicated relationships with their country's major cities. New York, Los Angeles, and, for the last 15 years, San Francisco, exist in the cultural imagination as places one goes to make a name and a career. But life in those urban centers, where astronomical rent, bad air, and intractable traffic are the new normal, isn't easy. No wonder a so-called "second tier" like San Antonio is suddenly attracting young and hungry types with high-tech job programs, appealing public spaces, and a relentlessly excellent basketball team. The Texas city of 1.4 million, which is now the fourth fastest growing metropolitan area in the U.S., boasts low unemployment, high quality of life, and, for the moment, momentum. Local leaders are looking to take advantage.
"For decades, San Antonio has had lots of small plans, but we never had a real broad, comprehensive plan," says Doug Melnick, the city's first ever chief sustainability officer. "We're looking at adding another million people within our county population by 2040, which will bring us up to about two and a half million. What does that mean in terms of mobility, environmental resources, quality of life?"
That's a pressing question for a growing city, and one that San Antonio's civil servants are actively preparing to answer. With just over two decades to address these challenges, San Antonio's city council has adopted SA Tomorrow, an extensive planning initiative designed to "future proof" the metropolitan area in the face of its impending population swell. The past decade has seen rapid development of the city's suburbs entice would-be homeowners away from more central neighborhoods. But its center has fallen victim to disinvestment, and in no other metropolitan area in America is the population as segregated by how much they earn.
When standing mayor Ivy Taylor announced her bid for reelection last month, she promised that SA Tomorrow would help San Antonio "avoid the pitfalls of growth" that Austin has been experiencing, namely traffic congestion, rising housing costs, and widespread gentrification. While the plans will take years to translate into concrete action, local officials are initially focusing their attention on developing plans to create widespread opportunities for residents.
"The hope is to direct about 60 percent of new growth towards these regional centers and high capacity transit corridors," says Rudy Nino, San Antonio's interim assistant director of Planning and Community Development. "If we can do that, we're going to be reducing the pressure of development on some of our neighborhoods, especially our more historic ones."
San Antonio's rich and diverse history is a major pillar of its identity. While tourists visiting the Alamo continue to bring investment into the downtown area, other districts are only now starting to attract significant developments. Projects such as the $300 million redevelopment of Lone Star brewery could ultimately be key to ensuring that San Antonio's downtown isn't left to become the only remnant of the city's past.
Mitch Hagney is CEO of Local Sprout, a hydroponic, urban farm located in downtown San Antonio. Having previously served on an SA Tomorrow planning committee, Hagney believes the city can leverage its rich sense of identity to rally around issues of sustainability and future growth. "The Latin American influence in San Antonio facilitates a denser, often familial community that most cities in the United States can't match," he says. Combined with the technical proficiency and financial resources of a great U.S. city, that sense of community can be utilized to strategically invest in sustainable infrastructure and businesses."
Last year, local companies came together at the San Antonio Tech Bloc to lobby for investment to establish innovation zones and pursue sustainable regeneration in San Antonio's downtown area. With major players, such as cloud-hosting company Rackspace backing the initiative, events hosted by the movement are bringing together the area's innovators and disruptors to define the city's future. But, like Hagney, the tech bloc has been quick to stress the need for local development to build upon the unique sense of community that is already in place.
"Protecting San Antonio's tremendous amount of history and cultural pride is a critical point right now," says Melnick. "We want to limit the amount of sprawl and encourage some more redevelopment within the targeted areas, but we must also be realistic about the amount of growth that's projected here.
As urban populations grow, the shape of the cities that house them inevitably shifts, and San Antonio finds itself at a crossroads. Will it successfully direct investment toward new hubs for employment? Or end up neglecting its historic districts and failing to address the decline of its central neighborhoods? The next few decades will determine whether San Antonio can accommodate expansion without sacrificing its soul — a key challenge at the forefront of decision-making for many U.S. cities as they face rapid rises in population.