The 'Westworld' Man in Black Is Who You Think He Is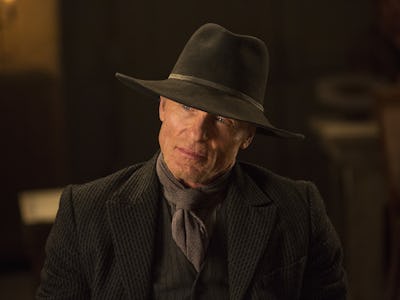 William (Jimmi Simpson) had quite the character arc in this first season of Westworld. He went from timid newcomer to the park, dragged there by his future brother-in-law Logan (Ben Barnes) to puppy dog-eyed lover of robot women, to valiant hero (or insane person?) working to save Delores (Evan Rachel Wood). In the show's first season finale, his final step was revealed: William became the Man in Black.
This doesn't exactly come as a surprise for many fans, who have been theorizing that William was indeed the young version of Ed Harris's obsessive, take-no-prisoners park visitor. There were the obvious clues — William wore a white hat, the Man in Black's hat was, well, black — but also several more subtle pieces of evidence.
Logan's family owns Delos, the company that owns Westworld. That wasn't clear at first, but then it was finally confirmed that the show operated on two timelines, and that William and Logan were in the earlier timeline. That, along with the reveal that the Man in Black was a major shareholder in Westworld, made the connection even more possible.
In the finale, the Man in Black breaks the news of his true identity to Delores, which in turn breaks her heart. She had been waiting so many years for William, her robo-sexual hero in the white hat, to save her from her endlessly looping nightmare … and now it turns out that her savior was a crusty, cruel old man who murdered at will.
It turns out that William, as we now know him, went mad with power. He sent Logan off into the sunset, tied naked to a horse, and took over Delos when he returned to the real world. We already knew that he returned every year to get his rocks off, to do the evil deeds he couldn't in the civilized world, where he was a billionaire and philanthropist and generally admired by all.
Things don't exactly go according to plan for William in the finale, because he accidentally timed his trip to the center of the maze with a robot awakening, but that's what you get for spending 30 years visiting a park and doing sick shit to robots.