'Spawn' Is Going to Be a Straight Up, Brutal, R-Rated Horror Film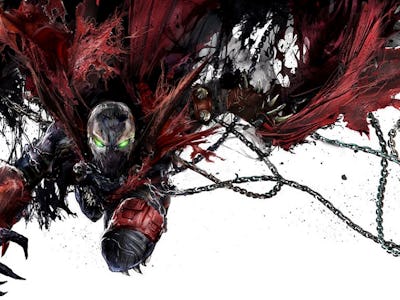 Todd McFarlane
Todd McFarlane has been dreaming about making a new Spawn movie for decades. But in Spawn's world, there are no dreams, only nightmares, and McFarlane says he doesn't even want to try to appeal to the sunny world of superhero fans. Instead, he's aiming for the horror movie crowd — and Spawn will fit right in.
The artist behind Image Comic's flagship demon-infested antihero has a very clear vision for what the potentially upcoming Spawn film would look like, and it should be shockingly different from any superhero or comic book-inspired films in the last ten years.
"What I can tell you is what I've told everybody else: it will be a definite R," McFarlane recently told ComicBook.com. "I'm not going for the same crowd that Marvel and DC is going for; I'm going for the same crowd that horror film releases going for. People who want to take their boyfriend or girlfriend or go out with the girls and go to the movies and get spooked."
We already knew that any prospective Spawn film would be intensely dark — after all, the character is completely unlike most traditional comic book heroes. McFarlane said the film is "slowly moving forward," and that the main challenge is getting both the story and budget tight enough so he can maintain control. Because here's the kicker: it's not happening if he can't direct it.
"I've been living with the idea for so long that I wanted to direct it, but I knew that if I gave it to Hollywood and they spent a lot of money on it then just from a practical point of view, it wouldn't be fair for me to then say 'I want to direct,'" McFarlane told ComicBook.com. Instead, McFarlane said that he wants to pitch a small-budget film and hope that a studio bites. He said he wants to tell the studios:
"Give me $10 million to make a little horror movie and let's see if we can scare some people. We've done that tons of times."
Here's McFarlane's full quote to Comicbook.com.
"I've been living with the idea for so long that I wanted to direct it, but I knew that if I gave it to Hollywood and they spent a lot of money on it then just from a practical point of view, it wouldn't be fair for me to then say 'I want to direct.' It's not good business to spend $80 million on movie and then give it to somebody who's not known for directing movies — but if you can make a movie for $10 million, they'll get a lot of less experienced directors to do those movies. So I knew I needed to keep the story and the budget both tight so that when I go to Hollywood and I say 'I have to direct it, that's not even a negotiation, so if you can't accept that, then the conversation is over quickly,' then once they understand the scope and size and budget of it, they're like 'Oh, okay. It's not like Todd's coming in here asking for $100 million and then saying let me direct my first movie. He's saying 'Give me $10 million to make a little horror movie and let's see if we can scare some people. We've done that tons of times.'"