How to See 'Harry Potter and the Cursed Child' on Broadway in 2018
Spoiler: Harry is overworked and has three kids.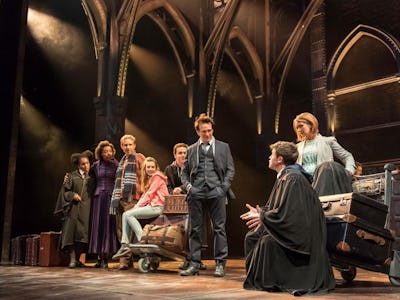 The Independent
A middle-aged, overworked Harry Potter will cross the pond and come to Broadway in 2018. The Potter, Weasley, and Malfoy families have been on stage at the West End's Palace Theater in London since July 30, when the eighth installment in J.K. Rowling's Harry Potter series, Harry Potter and the Cursed Child opened. In the Spring of 2018, the play will grace New York City's Lyric Theatre.
"I'm delighted we are one step closer in bringing Harry Potter and the Cursed Child to Broadway and very excited by the proposed plans," J.K. Rowling said in a prepared statement.
Potter fans who don't live in London, and who didn't get a chance to pick up a copy of the Cursed Child book — which is simply a print-out of the play in book form — will get their first chance to dive back into the world of Harry Potter. But be warned, it's a very different story than many fans expected it to be. Harry Potter is an overworked employee of the Ministry of Magic. He and Ginny (formerly Weasley, now Potter) have three school-aged children together: James Sirius, Albus Severus, and Lily Luna, who Potter fans were introduced to very briefly at the end of The Deathly Hallows.
Cursed Child mainly follows the story of Albus Severus (with his friend Scorpius Malfoy, son of Draco Malfoy, at his side) and Harry as past and present fuse together. Despite all the fighting the Potter gang did as teenagers, darkness is never very far away in the Wizarding world, and the Boy Who Lived is, as always, a magnet for trouble. Cursed Child has Harry's youngest son, Albus, following eerily in his father's footsteps.
The Lyric Theatre will be undergoing major renovations to make way for Cursed Child. The theater just so happens to be the location where Spider-Man: Turn Off the Dark made its accident-prone home. So here's hoping that Cursed Child has more luck than Peter Parker did.