"Ailing" Buzz Aldrin Has Been Evacuated From the South Pole
The National Science Foundation has agreed to medically evacuate the astronaut.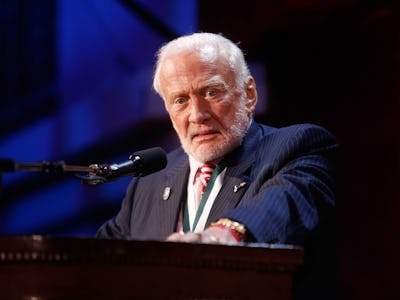 Getty Images / Thos Robinson
Buzz Aldrin, one of the first men to walk on the moon, has been medically evacuated from the Amundsen-Scott South Pole Station by the National Science Foundation (NSF). The order came in on Thursday that an "ailing visitor" to the station needed assistance. LC-130 cargo planes flew Aldrin from the station to McMurdo Station, located on the coast of Antarctica, where officials are now preparing a flight to New Zealand.
A statement from the International Association of Antarctica Tour Operators (IAATO) said that Aldrin made the trip as part of a tourist group, but while there his condition deteriorated. Aldrin was evacuated as a precaution, and doctors stationed at McMurdo reported that his condition was stable upon arrival.
Aldrin, 86, became the second man to walk on the moon in 1969 during the Apollo 11 mission. Since then, he's been an active proponent of colonizing Mars, pushing for a seven-year mission where astronauts construct a permanent habitat on the red planet. Aldrin has even produced a Christmas-themed "Get Your Ass to Mars" holiday sweater, with proceeds going to the SpaceShare Foundation for childhood education.
In the lead up to his Antarctica trip, Aldrin shared pictures of his preparation on his Twitter account:
Aldrin's trip was scheduled to last until December 12. Aldrin has now visited both North and South Poles, having visited the former with Hugh Downs in 1998. Although unable to tweet while visiting the icy continent, Aldrin said that he planned to wear his Mars sweater during the trip:
The NSF plans to make further statements on Aldrin's medical condition "only as conditions warrant."
This is a developing story.