6 'Star Wars' Fan Activities to Count Down to 'Rogue One'
You've got 40 years of SW content to dig through, fanatics, so get going!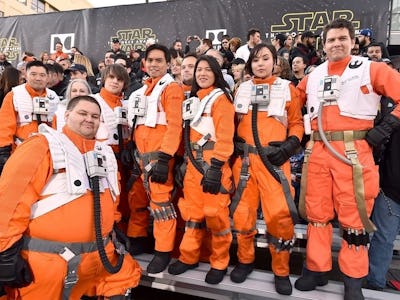 The National
The first Star Wars anthology film, Rogue One, hits theaters on December 16. The film, from director Gareth Edwards, falls outside of the regular trilogy story line that's so typical of the Star Wars series. The unusual format and the brand new cast of diverse, interesting characters have fan hype high and nerves running wild. Distraction is necessary at a time like this.
Luckily for Star Wars fans everywhere, distraction abounds. If you find your distraction in binging Netflix and going all-out on decorating your apartment for the holidays, then more power to you. But for those who want Star Wars-centric distraction, we've got you covered.
Read Catalyst, the New Star Wars Novel
Or, really, you could read any of the Star Wars novels out there. There are a lot of them. But Catalyst: A Rogue One Novel is the latest creation from venerated Star Wars novelist James Luceno, and was published November 15, barely a month before the release of Rogue One.
Here's the official synopsis for the book:
War is tearing the galaxy apart. For years the Republic and the Separatists have battled across the stars, each building more and more deadly technology in an attempt to win the war. As a member of Chancellor Palpatines top secret Death Star project, Orson Krennic is determined to develop a superweapon before their enemies can. And an old friend of Krennic's, the brilliant scientist Galen Erso, could be the key. Galen's energy-focused research has captured the attention of both Krennic and his foes, making the scientist a crucial pawn in the galactic conflict. But after Krennic rescues Galen, his wife, Lyra, and their young daughter, Jyn, from Separatist kidnappers, the Erso family is deeply in Krennic's debt. Krennic then offers Galen an extraordinary opportunity: to continue his scientific studies with every resource put utterly at his disposal. While Galen and Lyra believe that his energy research will be used purely in altruistic ways, Krennic has other plans that will finally make the Death Star a reality. Trapped in their benefactor's tightening grasp, the Ersos must untangle Krennics web of deception to save themselves and the galaxy itself.
Binge Every Star Wars Movie for 15 Hours of Fun
Technically, it takes 15 and a half hours to watch all seven Star Wars movies, whether you watch them in chronological order or in the order they were released. But watching Anakin Skywalker and his blond bowl cut grow up to kill a temple full of younglings, fulfill the prophecy decades later than expected, and then be venerated as an evil entity by his very confused grandson is totally worth it, as any Star Wars fan will tell you.
Play This Galaxy's Plethora of Star Wars Games
Whether you're a Star Wars: Battlefront kind of player or veer more toward the LEGO Star Wars games, there's a video game to keep you entertained, especially since the Rogue One premiere still feels so far, far away. From the 1992 NES Super Super Star Wars classic to Star Wars: The Force Unleashed, and even the Jango Fett-centric Star Wars: Bounty Hunter, there's a galaxy's worth of content to choose from.
Prepare Your Cosplay for the Premiere
The beautiful part about having 15 and a half hours worth of a visual story and, frankly, an unnecessarily enormous universe of extra content, is that Star Wars fans have never been gipped when it comes to cosplay. It's looking like there won't be any Jedi or Force-users in Rogue One, but that shouldn't stop you from donning the famous Jedi robe. And Jyn Erso and her crew each have an iconic, individualistic look that shouldn't be too hard to copy when December 16 roles around. You've still got a few weeks, so start sewing if you haven't already!
Catch Up on All the Star Wars Animated Series Out There
George Lucas created the two-season Star Wars: Ewoks in the mid-'80s, and today, the world has the 3D CGI animated Star Wars Rebels with its notably well-written plot and interesting cast of characters. So animated Star Wars series have been going on for awhile almost since the beginning of the Star Wars franchise, and they've only gotten better over time. The best part about the various animated series out there is that most of them consist of 22-minute episodes, so playing catch-up and using them as a method of distraction is just as easy as it is entertaining.
Don't Forget the Fanfic
Fanfiction is a vital part of any fan culture, and the 34,000+ Star Wars works on Archive of Our Own are proof that this reality holds true for George Lucas's creation. Whether you enjoy general fics that focus on a cast of characters or even a particular character in a certain storyline, or pairing fics that confirm your ships and make you feel warm and fuzzy, the options are endless.