Everything You Need to Know About the 'Dota 2' Boston Major
'Dota 2' goes to Beantown.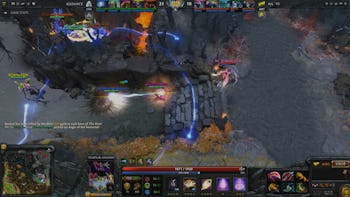 store.steampowered.com
The start of the 2017 Dota 2 season is just around the corner, kicking off with the Boston Major in just a few short weeks. The event will be held at the Wang Theater in Boston, Massachusetts, on December 3 - 4, and December 7 - 10. The Major is expected to draw both old favorites and up-and-comers, with plenty of roster change-ups and tournament adjustments that will make for an interesting event for sure. If you don't know what to expect from the first Major in the 2017 season, look no further than this guide, which will show you the way.
What is it?
"Majors" are a series of annual tournaments that culminates in the International championship event every August. This year, there will be two Majors preceding the International — this one in Boston, and another spring event, whose location has yet to be revealed.
While well-established teams like Evil Geniuses and Wings Gaming are invited to the event directly, Valve also gives newcomers the chance to participate by placing in a series of qualifying matches.
What's different about the Boston Major?
The Boston Major is special purely because it's the first Major hosted in an American city. Last season's majors were hosted in Asia and Europe, while the International took place in Seattle, Washington. This is leading some folks to speculate that the International will be hosted outside of North America in 2017.
The tournament structure is getting an overhaul, too. Rather than double elimination brackets as is custom, all 16 teams will be thrown into a single pool to duke it out for a spot in the finals. The event is split into two events — the Group Phase, which will eliminate eight teams and the Main Event.
What's at stake?
Teams don't need to win the first Major to make it into the Spring Major, so losing doesn't necessarily mean missing out on the rest of the season. However, those who perform well at the Boston Major will get a slice of the event's $3,000,000 prize pool.
Who will be there?
Both well-known pro-teams, and some relative newcomers, from all over the world will be participating in the Boston Major. The directly invited, well-established teams are Wings Gaming, Digital Chaos, Evil Geniuses, Newbee, EHOME, Execration, OG, and MVP Phoenix.
The teams that qualified are Team NP, compLexity Gaming, LGD.Forever Young, iG Vitality, Ad Finem, Virtus.pro, Team Faceless, and WarriorsGaming.Unity.
Some of these teams are headed into the 2017 season with some serious changes to their rosters that could affect their performance at the Boston Major. Clinton "Fear" Loomis of team Evil Geniuses is one of the best Dota 2 players in North America, capable of playing nearly any position. He retired after the 2016 International due to a wrist injury, and will instead be coaching the team. Andreas Franck "Cr1t" Nielsen will be taking his place as team captain after a stint with European team OG. While Nielsen has proved himself to be a world-class player in the past season, it will be interesting to see how he meshes with Evil Geniuses' group chemistry.
Meanwhile, many of the Chinese teams, save for TI6 winners Wings Gaming, have made huge changes to their rosters, with most teams totally scrapping all players to rebuild themselves from scratch. Rumors of player poaching and inflated transfer prices led to organizations dropping huge numbers of players at once in an attempt to even things out. This was pretty extreme, even for Dota 2 which sees regular roster shifts, but these significantly new rosters could affect the dynamic of Chinese teams moving into 2017.
Regardless of all of the changes, Dota 2 is as big as ever, and fans are especially excited to see how their favorite teams will perform. We'll also be on the lookout for the underdogs looking to make their name in 2017.