Here's How to Bring Your Thanksgiving Turkey on a Plane
Your holiday bird is TSA-approved.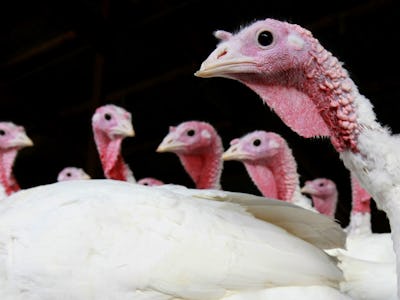 Getty Images / Justin Sullivan
The holidays are finally upon us, which means massive amounts of turkey and massively long lines at the airport. Luckily, the folks over at TSA have a handy guide to make sure your Thanksgiving travels are as good as gravy, including instructions on how to travel with your turkey dinner.
Airlines for America estimates that 27.3 million passengers will be traveling to their loved ones this year, with the busiest days projected to fall between November 18 to 23 and November 26 to 28. That averages out to be roughly 2.27 million people per day.
During this busy (and trying) time, the agency is taking precautions to ensure a safe and pleasant traveling experience. As a means to expedite the security process, TSA is rolling out a new feature which will allow their Pre✓® travelers to check wait times before arriving at the airport. If no open Pre✓® lanes are available, travelers can then go to a standard lane and receive expedited service.
If you are traveling with your Thanksgiving dinner, don't fret. TSA has announced that your turkey can fly with you. That's right, you can pack your turkey into either your carry-on or checked luggage. You can also bring a live turkey, but you'll have to contact your airline for possible restrictions.
While your holiday bird is allowed, some other things may not be, like egg nog and other holiday beverages. If you have any questions on what you can take on your journey, TSA has a handy site to guide you. You can even tweet photos to Ask TSA just to be sure.
So pay attention, pilgrims. Before you head to the airport, make sure your turkey is properly packed, your boarding passes are printed out, and you arrive early — TSA recommends at least two hours before your flight. If you remember these handy guidelines, everyone will have a better experience.