A Trump Presidency Is a Godsend for the Surveillance Industry
The companies that make hidden cameras could make a killing.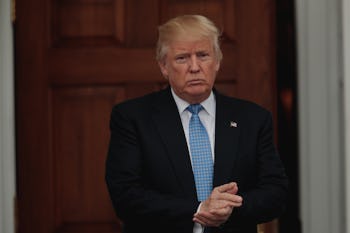 Getty Images / Drew Angerer
As the looming specter of a Donald Trump presidency continues to terrify minority groups throughout the United States, one industry is greeting the new administration with open arms.
Speaking at a physical surveillance trade show on Wednesday, two representatives from the Security Industry Association (SIA) – which lobbies the government on behalf of surveillance tech manufacturers – laid out the myriad ways Trump could be great news for their members' bottom line. Overall, the near-certainty that Trump will increase spending on defense border security means it's a great time to be in the surveillance world.
Jake Parker, the director of government relations at SIA, and Joe Hoellerer, manager of government relations at SIA, spoke at a side event during ISC East, the largest physical surveillance trade conference in the northeast. SIA represents about 700 different companies, and although Trump hadn't announced any cabinet appointments yet, Parker addressed some of the names that had been floated.
"Congressman [Michael] McCaul is on the shortlist for DHS Secretary. He's someone who has been very active, very supportive of our industry, so that would definitely be great if that happened." Parker said.
McCaul is current the chairperson of the House Committee on Homeland Security, and should he get the nod to head DHS, he will almost certainly be criticized by human rights groups for his stance on militarizing the southern border and other civil liberties issues.
Parker also discussed Senator Jeff Sessions, who Trump later picked for Attorney General, noting that Sessions "spoke at the [SIA] government summit this last year." In a press release announcing that Sessions would address the summit, SIA CEO Don Erickson offered the below statement:
I can think of no lawmaker more involved in issues of paramount importance to the security industry today, and I anticipate the senator will have thought-provoking insights to share with conferees at the SIA Government Summit.
Sessions has been criticized for making racist comments throughout the entire course of his career in public life, and white nationalists are celebrating his nomination, as well as several other Trump appointees with histories of making racist comments.
Trump's promise to increase defense spending, which had been subject to sequestration cuts under the Obama administration, could prove to be a major source of revenue for surveillance companies. In the immediate aftermath of Trump's victory, stocks of weapons manufacturers hit all time highs.
If anything, Parker and Hoellerer probably underplayed the boon that their members will see under President Trump. His promise to run on a platform of "law and order" suggests that he could increase DHS funding to state and local police departments in the name of counter-terrorism operations, ramp up the transfer of military equipment to law enforcement throughout the country, and possibly push for greater government access to the ecosystem of privately owned security camera networks that are already in place in every major American city. Indeed, when it comes to surveillance and monitoring under Trump, the sky is the limit. His administration could push for a wider deployment of facial recognition software and an increase in biometric scanning at the border, some of which already exists.
When asked by Inverse whether SIA has a role to play in alleviating fears of Muslims, immigrants, activists, and other groups that worry what a Trump administration can do with intrusive surveillance technology, Parker suggested the concerns were overblown.
"The technology is powerful, but in most cases it actually enhances privacy," Parker said. "It helps prevent identity theft. It helps prevent misuse – you need to have some policy parameters in place. I think law enforcement has done this with technology to varying degrees of success."
Those assurances are likely little comfort to those fearful of what the next four years will bring. One that seems certain, though: in the age of Trump, it's a great time to be in the business of monitoring people.