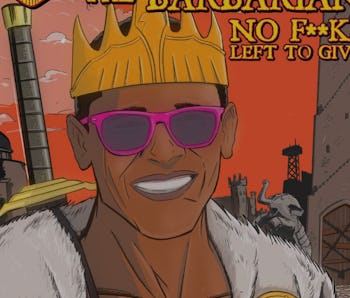 Entertainment
Barack Obama Comic Announces POTUS Has No Fucks Left to Give
Devil's Due Publishing
2016 has been a strange year, so there's not a lot that can feel like a surprise anymore. That said, the comic book Barack the Barbarian certainly qualifies as one of the more stranger things available on the internet. The comic, from Devil's Due Entertainment, reimagines "Warshington" as a land straight out of Conan, with barbarian kings, brigand usurpers, and warrior priests known as the "Berning Men." It's a ride to say the least.
While the new one-shot is written by publisher Josh Blaylock and illustrated by Hoyt Silva, the original comic ran in 2008, the first year of President Obama's term in office. After it revealed in an interview that President Obama collected issues of Conan the Barbarian, Blaylock contacted writer Larry Hama for a story mashing-up the two properties. Hama, a supporter of Obama's, requested that the title be changed to Barack the Barbarian (from the original Obama the Barbarian), and that his political preferences could be featured in the comics.
Originally a four-part series, Blaylock released a short follow-up story which takes place after the events of the U.S. 2016 Presidential Elections. Titled the "Red and Blue Wedding," it depicts political figures like Hillary Clinton, Mitt Romney, Sarah Palin, and also media outlets like Fox News as fantasy figures. A planned coronation for "Hilaria" turns south when the "Berning Man" summons the spirit of the Founding Fathers whose wrath ends up decimating the Warshington establishment. "Clump" becomes only one left to rule the city, as Barack the Barbarian has ended up with no fucks to give. Literally.
It's pretty gonzo, and there are definitely some laughs to be had, if only at the absurdity of the whole story. Unfortunately, the reality at the end of the comic is that "Clump" is still King of Warshington, and we've lost a great man in Barack the Barbarian, who flies away from the kingdom on his Donkey Dragon to spend his retirement in the region of "Jayonce."
Barack the Barbarian is available now on digital retailers.