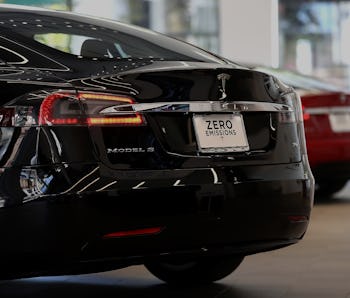 Innovation
The Tesla Model S Is America's Most Loved Car
The electric sedan grabbed the CLI top spot for a second year.
Getty Images / Justin Sullivan
Love your Tesla? You're not alone. The United States is a nation of Elon Musk car lovers, with the Model S topping Strategic Vision's Consumer Love Index (CLI) for a second year. The survey, which asks owners to rate 120 different aspects of their car, scored the car 652 points out of 1000, leaving the competition in the dust. The Model S's closest competitor, the Mercedes-Benz C-Class, scored just 583 points.
Millennials are among the biggest fans of the Tesla, and gave higher rating to their cars across the board. Although the Uber and Lyft generation may seem like unlikely candidates for Musk's growing business, there's a certain appeal about owning your own car.
"Vehicles today are not just satisfying their needs to go places and stay connected with others. They are providing means for younger people to become ideal versions of themselves as they come to rely upon, have freedom in, feel good about, and ultimately love all the things that their new vehicle does for them." Alexander Edwards, president of Strategic Vision, said in a story published Monday. "There is no easier way to become Batman than to be behind the wheel of your own, personal Batmobile."
It may have topped the charts in both 2016 and 2014 (the CLI didn't sample enough owners in 2015), but the car has been on the market for four years, and it would be a surprise if it maintained its momentum into a fifth year.
However, there are signs it may be able to do exactly that. When equipped with a P100D Ludicrous battery, the car is able to achieve a staggering acceleration of zero to 60mph in just 2.5 seconds.
Musk has also revealed that new Model Ss rolling out of factories from this month will support autonomous driving from next year. The feature is an expansion of the current autopilot mode, and uses advanced sensors to reach new levels of self-driving safety.
Much like the Lamborghini in the above video, Tesla is pulling ahead of its competitors and making cars people actually want to buy. With climate change looking like it's gonna get worse before it gets better, the electric car revolution is needed now more than ever. Hopefully, Tesla will be able to convince more and more drivers to make the switch.