8 Spotify Playlists to Make Thanksgiving Travel Bearable
No one has to fight over the aux cord on the way to grandma's house this year.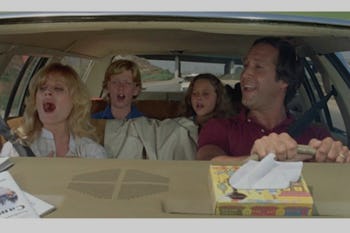 Although a lot of people tend to skip over this holiday and fast-forward to Christmas, Thanksgiving is quickly approaching. That means that a lot of families will be making the dreaded road trip to a relative's house to dine on dry turkey and have forced conversations with weird cousins. All that time with family can become especially tiresome when it comes to the whole music situation. Grandpa reminisces on the time when music was good, when we did not have this hippity-hop nonsense, and music used to mean something. You, on the other hand, are about the turn up life and cannot comprehend why your grandmother's favorite song is about the very first night of September.
Luckily, Spotify has a long list of playlists that the whole family can enjoy before the inevitable bickering begins. Here are some of our favorite ones.
1. I Love My '90s R&B
Standouts: Doo-Wop (That Thing) - Lauryn Hill, Candy Rain - Soul For Real, Still Not a Player - Big Pun
'90s R&B is known for being smooth. This playlist has a blend of tracks that could make for a laid-back setting or make you want to get up and dance. The rap influence lends well to the younger generation and the singing makes your parents feel like the song actually has a message. This playlist is perfect for an intergenerational bonding session.
2. *Funk Outta Here
Standouts: Superstition - Stevie Wonder, Mighty Mighty - Earth, Wind & Fire, Brick House - Commodores
This might be more your parents' vibe, but it is definitely worth giving it a try. Funk is something that you feel so if you negatively go into listening to the playlist, you're not going to like it. But, if you just let the funk take control of you, then you will enjoy it. Besides if you like Kendrick Lamar's To Pimp a Butterfly or Kanye's early music and do not like funk music, you have to brush up on your musical history big fella.
3. Hamilton (Original Broadway Cast Recording)
Standouts: The whole thing.
Although some of us have not had the pleasure of seeing the play, the soundtrack to Broadway's Hamilton is one of the best theater soundtracks around. The songs are mainly hip-hop influenced, but the lyrics are dope and historical. Why not learn about one of the nation's founding fathers while on a road trip with the family.
4. Gold School
Standouts: If I Ruled the World (Imagine That) - Nas, Return of the Mack - Mark Morrison, Vivrant Thing - Q-Tip
If you're family is a little younger and are big fans of hip-hop, this playlist encompasses the '90s and early 2000s hip-hop. It covers a wide range of hip-hop music from the West Coast anthems like Warren G's Regulate and Native Tongues's anthems like A Tribe Called Quest's Can I Kick It?. If you don't like all of the songs, just play Return of the Mack on repeat. It's a classic.
5. Genre Bender
Standouts: The Icarus - Kamau, Dontcha - The Internet, Warm Winds - SZA
For families that have people with different music tastes, all of the music on this playlist lies in the middle. It is a blend of separate genres that everybody can get into. There might be some music that is too hard on grandma's ears, but if she is a little hard of hearing, go on and crank this one up.
6. Beer and Wings
Standouts: Whole Lotta Love - Led Zeppelin, Even Flow - Pearl Jam, Chop Suey! - System of a Down
Most people say that the days of good rock music are long gone and I agree. But, this playlist has some good classics on it and some newer songs that are easy on the ears. Nothing is better than a good air guitar session with mom and dad.
7. Guilty Pleasures
Standouts: Carry On Wayward Son - Kansas, It Wasn't Me - Shaggy, Basketball - Lil' Bow Wow
Because we all have them. We would be shy to sing these songs alone, but as a family, it will make for some very good times.
8. Disney Hits
Standouts: The whole thing.
Who does not like Disney songs? We grew up with Disney. Our parents grew up with Disney. And our children will also grow up with Disney. The music is good for all generations and will forever be timeless.